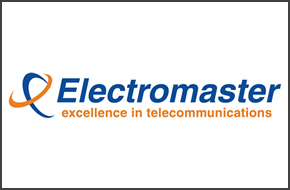 Leading provider of business telecommunications and data solutions in Ireland will provide current 3CX Partners with support, licences, training events, sales support and technical information.
DUBLIN, LONDON and CORK, 17 January 2012 – 3CX, developer of the award winning Windows VoIP PBX 3CX Phone System, today announced it has named Electromaster an authorized dealer for Ireland. Electromaster, one of Ireland's premier national telecommunications distributors, will promote and sell 3CX Phone System throughout the country. The company will host training seminars and provide full technical support to 3CX Phone System customers.
"The 3CX partnership enables Electromaster to bring 3CX Phone System to the thousands of SMEs and institutions in Ireland who are looking for a reliable software-based phone system that offers all of the benefits of Unified Communications at a fraction of the price of a traditional hardware PBX," said Mark Condon, Electromaster CEO.
In 2010, Forbes ranked Ireland first in the Eurozone as one of the best countries for business; the country currently hosts the operations of more than 1,000 international companies. According to a recent survey conducted by communications regulator ComReg, 46 percent of Irish SMEs profess to have a good understanding of VoIP, and six out of 10 respondents said they would prefer a single provider for fixed and mobile services. 40 percent of those surveyed would change fixed-line providers for a 15 percent call saving.
"The appointment of Electromaster as a 3CX Distributor demonstrates our intent to earn a larger share of SME telecommunications spending in Ireland," said Stephen Corrigan, 3CX Sales Director. "With its knowledge of the marketplace and its extensive experience, Electromaster can promote 3CX Phone System within the Irish market and provide consistent support to our partners. We expect a long and profitable relationship with Electromaster."
About 3CX
3CX is the developer of the 3CX Phone System, an open standard unified communications platform for Windows that works with standard SIP phones and replaces any proprietary PBX. The 3CX Phone System is more manageable than standard PBX systems and delivers substantial cost savings while increasing productivity. Some of the world's leading companies and organizations use the 3CX Phone System, including Boeing, the Caterham F1 Team, MIT, Ohio State University and RE/MAX.
3CX was named a CRN Emerging Vendor in 2011 and 2012 and has been awarded Windows Server Certification – the company has also won the Windowsnetworking.com Gold Award, the Windows IT Pro 2008 Editor's Best Award and a Best Buy Award from Computer Shopper. 3CX has offices in Australia, Cyprus, Germany, Hong Kong, Malta, South Africa, the UK and the U.S. Please visit our website, https://www.3cx.com, and 'Like' our Facebook page, http://www.facebook.com/3CX/.
About Electromaster
Electromaster has been supplying unparalleled telecommunications and data solutions to U.K. and Irish companies and institutions since the early 1990's. Located in Dublin, London and Cork, Electromaster provides distribution and superior professional management in tandem with a full range of top quality telecommunications products and solutions. The company, one of the largest telecoms distributors in the region, provides same day and next day delivery throughout the U.K and Ireland as part of its peerless customer service. The Electromaster portfolio includes IP phones, IP PBXs, IP peripherals, IP cameras, IP video conferencing, mobility solutions with WiFi, DECT, engineering consultation services, technical support and IP training. For more information, please visit http://www.electromaster.ie/.