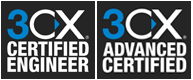 The New 3CX Two-Tier Certification Program Gives its Partners the Edge in the VoIP PBX Market
LONDON, 7 MAY 2013 – 3CX, developer of the award-winning Windows VoIP PBX 3CX Phone System, today announced the launch of its new free 3CX Certification Program, which is designed to boost 3CX Partners' productivity and profitability by giving them the resources and knowledge they need to sell, deploy and support 3CX Phone System to their clients.
3CX Delivers its Partnership Promise with FREE Training and Certification Programs
Where other PBX companies view their partners as profit-centers and charge them thousands of dollars to gain a level of certification, 3CX shows its true commitment by providing physical and online training free of charge to its thousands of partners worldwide!
3CX has two new certification levels – the 3CX Certified Engineer and 3CX Advanced Certified levels, with the company providing a complete series of online training videos which gives 3CX Partners all the information they need to prepare for both levels. Coupled with the already popular 3CX Partner Training Events which are free and held worldwide, 3CX is totally committed to assisting in the development of its partners without charging them a penny.
"3CX empowers its partners to increase their revenue by providing additional ways to differentiate themselves, whilst increasing the profitability of each install", said Nick Galea, 3CX CEO. "3CX Partners can gain both levels of certification absolutely free of charge, unlike some of our competitors that charge their partners anywhere from $1,000 to $5,000!"
Handle Larger and More Complex Installations as a 3CX Certified Partner
Being 3CX Certified is a significant differentiator over other non-certified partners as certified partners are able to handle larger and more complex installs due to a better understanding of 3CX Phone System. This leads to more profitable installations and Certified 3CX Partners can earn more service revenue from happier customers.
"Certification is a key process to becoming a 3CX Premium Partner. When dealing with clients on every level we have found the training and certification provided by 3CX to be invaluable. Without the 3CX training and certification we would be searching for answers to simple VoIP and SIP issues every day, let alone questions specific to 3CX." – Bruce Kreeger – Clarity Technology – 3CX Premium Partner.
Upon passing each certification level, 3CX Partners are awarded with a new 3CX certificate and a 3CX Certified Engineer or 3CX Advanced Certified logo. 3CX gives the rights to the newly certified partners to use their certification logos on their websites and office stationery such as business cards and letterheads and thus distinguish themselves by promoting the fact that they have gained 3CX Certification.
"Being a certified partner and a certified professional gives you a leg up on the computer shop down the street. We proudly display the certified partner logos on our site. It gives you credibility with both existing owners and new sales prospects." – Jim Green – Pacific Softcom – 3CX Preferred Partner.
Get Certified – Get Listed – Wear Our Gear
3CX ensures its Certified Preferred and Premium partners gain maximum visibility by appearing in the Find a Reseller section on the 3CX website, which is a significant resource of new customers. Also, all 3CX Partners that become a 3CX Certified Engineer will receive a free 3CX branded cap or polo shirt and many partners are already wearing their 3CX gear proudly.
Your 3CX Certification Starts Here
Learn more about gaining a 3CX Certification by visiting www.3cx.com/3CXAcademy. Prepare for both certification levels by watching the 3CX Online Training Video Courses, which provide 3CX Partners with an overview of all the expertise and know-how they will need to successfully pass the 3CX Certified Engineer and 3CX Advanced Certified levels.
About 3CX (www.3cx.com)
3CX is the developer of the 3CX Phone System, an open standard unified communications platform for Windows that works with standard SIP phones and replaces any proprietary PBX. The 3CX Phone System is more manageable than standard PBX systems and delivers substantial cost savings while increasing productivity. Some of the world's leading companies and organizations use the 3CX Phone System, including Boeing, the Caterham F1 Team, Intercontinental Hotels & Resorts, Harley Davidson, and MIT.
3CX was named a CRN Emerging Vendor in 2011 and 2012 and has been awarded CRN's 5-Star Partner Program rating in 2013. 3CX has also been awarded Windows Server Certification and won the Windowsnetworking.com Gold Award, the Windows IT Pro 2008 Editor's Best Award and a Best Buy Award from Computer Shopper. 3CX has offices in Australia, Cyprus, Germany, Hong Kong, Malta, South Africa, the UK and the U.S. Visit us at: https://www.3cx.com, and on Facebook at: http://www.facebook.com/3CX/.