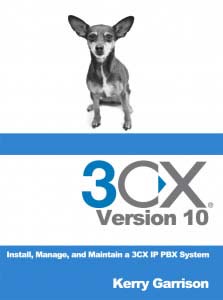 Have you read 3CX Partner Kerry Garrison's 3CX Version 10 Book? It's a fantastic read, designed to take you from installing and configuring 3CX Phone System to understanding the best practices for deployment and development of the call flow and advanced configuration options. The book also demonstrates how 3CX Partners can sell 3CX Phone System effectively, giving resellers insights into tried and tested sales methods.
In the book, Kerry gives an intro to IP PBX's and how they can be used as business phone systems. There's an introduction to 3CX, which gives details about what 3CX is and how it works. Maintenance and reporting is discussed, which shows you all you need to know about maintaining and backing up your PBX, as well as looking at the reporting tools that are used to see the call activity within 3CX Phone System.
The final chapters of the book show you how you can sell 3CX Phone System. If you're adding 3CX to the list of products and services that your company offers its customers, the sales sections will help you to be more effective when selling it.
You can pick up your own copy right now by visiting http://3cxbook.com. The 3CX Version 10 Book sells for $24.99 US and can be shipped anywhere in the world for a nominal fee.
Become a 3CX Partner and Profit from Reselling 3CX Phone System!
The VoIP PBX market continues to boom as companies look to lower call costs, reduce their PBX administration time and use unified communications to give their staff higher productivity levels. 3CX Phone System is a modern, Windows-based VoIP phone system and you can profit by selling 3CX, VoIP equipment and installation and support services to your customers! If you're in IT and interested in reselling 3CX Phone System, click here to apply to join the 3CX Partner Program.