MUNICH, GERMANY, 27 MARCH 2015 – 3CX, developer of the next generation software PBX 3CX Phone System has beaten the competition to win the award for the "Most Innovative Product" in the category of Unified Communications with 3CX WebMeeting. The award ceremony was held at this year's CeBIT, in Hannover, Germany, one of the largest IT expos globally. The award was collected by 3CX CEO Nick Galea and Marcus Kogel, Sales Manager EMEA.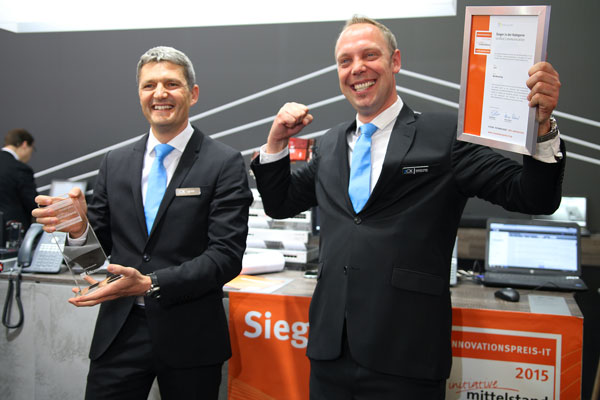 3CX WebMeeting was chosen for its innovative use of WebRTC technology. WebRTC is Google's open standards technology which allows users to launch web meetings directly from their browser, without having to download any clients or plugins. 3CX launched the hosted version of 3CX WebMeeting in August 2014 and the on-premise version in February 2015. Since its launch 3CX WebMeeting has received positive feedback from both 3CX Partners and end-users. 3CX WebMeeting is free for up to 10 participants for all 3CX Phone System 12.5 users.
The Innovationspreis-IT 2015 Awards, are organized by Initiative Mittelstand, an online information service, which provides information to companies about the newest and most innovative products, services and technologies available.
Nick Galea, 3CX CEO said:
"This award is a great recognition of 3CX as a forerunner in the Unified Communications and PBX industry. We are the first vendor to offer a multi point WebRTC based video conferencing solution which is also integrated with our PBX at no extra charge. The "Most Innovative Product" prize, chosen by a jury of industry experts, is a highly esteemed award in Germany and we are very appreciative of the recognition our innovation is receiving in the industry."
About 3CX (www.3cx.com)
3CX is a 100% channel company and is the developer of a software-based and open standards IP PBX which innovates communications and replaces proprietary PBXs. 3CX cuts telco costs and boosts company productivity and mobility.
With integrated WebRTC web conferencing, softphones for Mac and Windows and smartphone clients for Android, iOS and Windows phones, 3CX offers companies a complete Unified Communications package out of the box.
250,000 customers worldwide use 3CX including Boeing, McDonalds, Hugo Boss, Ramada Plaza Antwerp, Harley Davidson, Wilson Sporting Goods and Pepsi. Maintaining its global presence, 3CX has offices in the U.S., U.K., Germany, South Africa, Russia and Australia. Visit 3CX on Facebook, Twitter and on Google+.