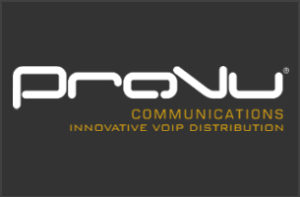 3CX Expands its Presence in the UK Market with New Distributor ProVu
LONDON & HUDDERSFIELD, UK, 25 OCTOBER 2016 – 3CX, developer of next generation software-based Unified Communications Solution and ProVu a B2B market leader in VoIP distribution in the UK, announce the appointment of ProVu as a new 3CX Distributor for the UK market.
The new appointment comes as part of ProVu's continued efforts to meet the demands and requirements of their reseller partners and will see the availability, support and training of the complete 3CX product range.
As one of the leading distributors for many of 3CX's supported products, this new partnership will enable resellers to streamline their ordering processes between 3CX and supported hardware.
Paul Clarke, Regional Sales Manager – UK & Ireland, said:
"3CX is committed to growing its UK market share and with strong distribution partners like ProVu this is bound to happen. ProVu's wealth of knowledge and experience in the VoIP and Unified Communications field was key to the company partnering with us. Their appointment also benefits our UK partners as ProVu will provide them with support as well as sales and technical training. We are looking forward to a successful and long lasting business relationship with ProVu."

Darren Garland, Managing Director, ProVu said:
"The 3CX product range has revolutionised the IP PBX Software market, we are delighted to have been appointed as a distributor. Unlike some other comparable products, the 3CX range is based on the number of simultaneous calls required rather than the number of users, this enables resellers to easily create cost-effective, scalable solutions. The 3CX portfolio plays into our existing product ranges very nicely, we hold strong relationships with both Snom and Yealink, which with the addition of 3CX will enable us to offer the complete package."
About 3CX (www.3cx.com)
3CX is a 100% channel company and is the developer of a software-based and open standards IP PBX which innovates communications and replaces proprietary PBXs. 3CX cuts telco costs and boosts company productivity and mobility.
With integrated WebRTC web conferencing, softphones for Mac and Windows and smartphone clients for Android, iOS and Windows phones, 3CX offers companies a complete Unified Communications package out of the box.
250,000 customers worldwide use 3CX including Boeing, McDonalds, Hugo Boss, Ramada Plaza Antwerp, Harley Davidson, Wilson Sporting Goods and Pepsi. Maintaining its global presence, 3CX has offices in the U.S., U.K., Germany, South Africa, Russia and Australia. Visit 3CX on Facebook, Twitter and on Google+.
About ProVu (www.provu.co.uk)
ProVu are the UK's business to business market leader in VoIP hardware distribution, based in Huddersfield, West Yorkshire. We offer world class products including a full set of provisioning and fulfilment services to the telecoms and IT industry.