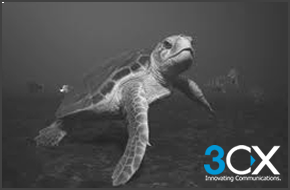 The team at 3CX is excited to sponsor Lydia, the Loggerhead sea turtle. Lydia was rescued in September 2013 after being found in Rafina, a port town close to Athens, with a head injury and an ingested hook. She is now being cared for by ARCHELON, The Sea Turtle Protection Society of Greece, and with the support of 3CX is receiving treatment for her injuries. We are all wishing her a speedy recovery!
Endangered Loggerheads of the Mediterranean
Loggerheads are the most common turtle in the Mediterranean and can live for over fifty years. However, since 1978 they have been listed as an endangered species and their numbers have been in decline. Today sea turtles continue to face many challenges including: the destruction of their nesting beaches, sea pollution, and the threat from natural predators, such as foxes and birds, who dig up the nests and eat the hatchlings.
Loggerheads are also threatened by commercial fishing practises, sometimes inadvertently becoming tangled up in fishing nets. As in Lydia's case, sea turtles are also attracted to the bait on fishing lines seeing it as an easy meal, and get caught on the hooks. When this happens, the hook can get lodged in the turtle's digestive system and eventually cause a slow death.
3CX Supports ARCHELON
3CX is pleased to support the work of ARCHELON, The Sea Turtle Protection Society of Greece by sponsoring Lydia's recovery. ARCHELON has been protecting sea turtles and their habitats in Greece since 1983, by implementing management plans, restoring habitats, raising public awareness and rehabilitating injured turtles. Over 50 injured sea turtles are treated every year at their rescue centre in Athens, with the organisation running three permanent and ten additional seasonal stations in Zakynthos, Peloponnesus and Crete. Every summer the 75 major nesting areas in Greece are monitored daily and over 2,500 nests are protected against human threats, natural predators, and from being washed away by the sea.
If you too would like to adopt your own turtle or make a donation make sure to take a look at the ARCHELON website.