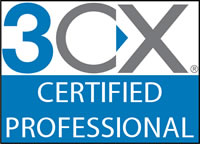 A new series of videos allows 3CX Partner and end-users to learn about 3CX Phone System administration.
London, UK – 4 October 2012 –  3CX, developer of the popular Windows-based VoIP PBX, 3CX Phone System, has announced that new high definition video courses have been released which are designed to help 3CX Partners and end-users easily install, configure and get the most out of 3CX Phone System 11.
The new training consists of five courses covering all aspects of 3CX Phone System such as:
A general overview of 3CX Phone System and PBX concepts.
Installation of 3CX Phone System.
Setting up phones and extensions.
Connecting PSTN gateways and VoIP Providers.
Configuring inbound and outbound call routing.
Using queue strategies with 3CX Call Center Module.
Troubleshooting issues.
To get the most out of 3CX Phone System 11, view the 3CX Online Training Courses here and then take the 3CX Certification test. The videos cover all the expertise and know-how needed to successfully become certified.
3CX Partners that get certified are prioritized above non-certified Partners. Additionally, all 3CX Partners can attend one of the many 3CX Training Events held worldwide each year to learn the best techniques for deploying and selling 3CX Phone System and to interact with the 3CX Team.
About 3CX
3CX is the developer of 3CX Phone System – an open standard unified communications platform for Windows that works with standard SIP phones and replaces a proprietary PBX. 3CX is more manageable and can deliver substantial cost savings besides increasing productivity. Leading companies worldwide such as Caterham F1 Team, Boeing, Ohio State University, MIT and RE/MAX use 3CX Phone System. 3CX has been listed as a CRN 2011 and 2012 Emerging Vendor and has earned Windows Server Certification as well as other numerous awards, including The Windowsnetworking.com Gold Award, the Windows IT Pro magazine 2008 Editor's Best Award and a Best Buy Award by Computer Shopper Magazine. 3CX has offices in the UK, USA, Germany, Cyprus, Malta, Australia, South Africa and Hong Kong. For more information, visit: https://www.3cx.com and find us on Facebook at http://www.facebook.com/3CX/