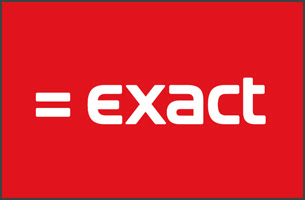 This integration is no longer available
3CX and Exact natively integrate to offer a boost in productivity and efficiency within the workplace
LONDON, UK & FRANKFURT, GERMANY, 12 MAY 2016 – 3CX, developer of next-generation software-based Unified Communications solution and Exact Software Germany GmbH announce the successful integration between 3CX's PBX and Exact Cloud Solutions.
The plugin makes integration between Exact and 3CX an easy task as it automatically opens the contact record, and, if the number is not recognized, creates a new contact. It also logs the call and opens an activity box specific to the caller so users can take notes when the call ends.
In addition, launching outbound calls from the Exact interface can be done simply and effortlessly using the 3CX 'hotkey dialing' feature. This is done by selecting the desired phone number in the Exact Interface; pressing the preconfigured hotkey dials the number and automatically initiates the call.
These features are invaluable to call centres and sales teams and, in conjunction with the powerful UC features that 3CX provides, offer great potential to boost employee productivity by saving time and helping to maintain customer relations. Exact users will now be able to benefit from the savings on telco costs that accompany 3CX's software PBX. The CRM is part of the complete Exact product portfolio, therefore, 3CX customers may also profit from Exact for Accounting, Exact for Wholesale Distribution, Exact for Manufacturing or Exact for Professional Services.
Nick Galea, CEO 3CX, said:
"One of the main benefits of 3CX is that it offers businesses increased productivity. With out-of-the-box integrations with quality CRM systems such as Exact, businesses will receive the boost in productivity they need while at the same time take advantage of the advanced UC features 3CX has to offer".

Robin Brinkman, Partner Manager, Exact Software Germany, said:
"The integration between 3CX and Exact Cloud Solutions allows us to offer functionality that a lot of our customers have been waiting for. Companies can deliver better support based on faster insight into the contact details. It also helps sales organization to react on a more personal level to incoming calls, which results in a higher conversion rate. 3CX will increase customer satisfaction and help companies grow."
Resellers will be able to offer clients this powerful productivity boost, putting robust business management solutions and a cutting-edge IP PBX in a single value-added package. 3CX and Exact have organized webinars which demonstrate how this integration works and how resellers can profit from it. Reserve your seat here.
About 3CX (www.3cx.com)
3CX is a 100% channel company and is the developer of a software-based and open standards IP PBX which innovates communications and replaces proprietary PBXs. 3CX cuts telco costs and boosts company productivity and mobility.
With integrated WebRTC web conferencing, softphones for Mac and Windows and smartphone clients for Android, iOS and Windows phones, 3CX offers companies a complete Unified Communications package out of the box.
250,000 customers worldwide use 3CX including Boeing, McDonalds, Hugo Boss, Ramada Plaza Antwerp, Harley Davidson, Wilson Sporting Goods and Pepsi. Maintaining its global presence, 3CX has offices in the U.S., U.K., Germany, South Africa, Russia and Australia. Visit 3CX on Facebook, Twitter and on Google+.
About Exact (http://www.exact.com/de)
Exact builds business software for SMEs and their accountants. Our innovative technology is aimed at specific business needs, providing an overview of today and insights into the opportunities of tomorrow.
Exact inspires businesses to grow. Our 1,600 employees love, share and support our customers' ambition. Like them, we aim high. Like them, we aspire to lead the way. That's how we know it's a bumpy road to success. And that's why we build software to help smooth it out, enabling our customers from all over the world to grow.