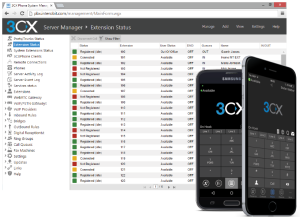 LONDON, UK 12 MARCH, 2015 – 3CX, developer of the next generation software PBX 3CX Phone System announces that Phoenix ME, a London based company which specializes in mechanical and electrical installations, has brought their communications up-to-date with the cutting edge technology of 3CX Phone System.
Old & Costly PBX in Need of Replacement
Phoenix ME found that their previous phone system, which was over ten years old, was becoming increasingly difficult to manage and maintain. With an annual maintenance fee of £5,760 and a lack of adequate support due to its outdated technology, Phoenix were facing unreasonable costs and difficulties in maintaining their phone system. Additionally, with its limited functionality and lack of reliability, Phoenix's phone system was falling short of their needs.
Richard Butler, IT Manager at Phoenix ME said:
"An initial evaluation of comparative systems gave 3CX better cost per benefit ratios. It was recommended by our support company and also fitted in with the company's technology standards."
Read the complete Phoenix ME case study and discover how 3CX Phone System lowered their costs and provided greater flexibility.
About Gregory Micallef Associates (www.gmal.co.uk)
Gregory Micallef Associates is a leading SME reseller specialising in the SMB market. They have been consistent in delivering bespoke solutions based on the concept of Unified Communications since their inception in 1992 and have gone on to develop strong relationships with leading vendors around the world. GMA takes advantage of the perpetually changing industry landscape to provide up-to-date and unique services to its customers. They provide unrivalled small business IT solutions and support in Cloud Computing, Unified Communications, Telephony, Disaster Recovery, Website Architecture and more.