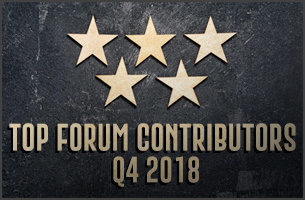 2019 is here and we're ready to award the top forum contributors for the last quarter of 2018. We would like to take this opportunity to thank all our community members who have been actively posting on our forums throughout 2018, offering advice and support to each other. Keep up the good work!
And the top 5 contributors for Q4 2018 are:
cobaltit
leejor
eddv123
craigreilly
Saqqara
Each top contributor will be contacted personally by 3CX with instructions on how to claim their reward!
The awards are:
1st Place: €500
2nd Place: €250
3rd, 4th and 5th Place: €100
Once again, thank you to all forum members for making the 3CX Community a hub of knowledge and support! Stay tuned for our Q1 winners!