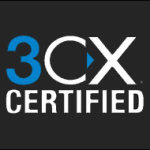 Following the release of 3CX Phone System 12.5, we have also revamped the 3CX Advanced Certification Test accordingly!
The new Advanced Certification test includes questions about 3CX Phone System 12.5 and its new integrated technology  WebRTC. As WebRTC is a new and upcoming technology there would be no better way to help 3CX Partners increase their sales by making sure they know everything about it.
We encourage all 3CX Partners to take the new Basic and Advanced certification tests. Learn all the new features and key benefits of 3CX Phone System 12.5 and become 3CX Certified!
To take the 3CX Certification tests login to your 3CX ERP account and take the 3CX Certified and Advanced Certified Engineer tests