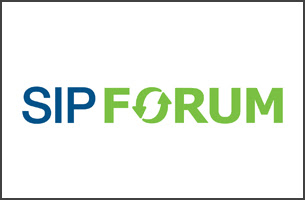 As a New Full Member of the SIP Forum, 3CX will Contribute to Enhancing Open Standards and Interoperability between SIP Hardware and Services
LONDON, UK, 17 OCTOBER 2017 – 3CX, developer of next generation software-based Unified Communications Solution, has joined the SIP Forum to be party to the future of the SIP standard, but most importantly to contribute to the further development of open standards for SIP technology.
The SIP Forum is a leading industry association committed to SIP. In its role as a new Full Member, 3CX will provide new impetus for advancing the interoperability of SIP-based hardware and services.
3CX Strives for SIPconnect Certification
The SIP Forum's groundbreaking SIPconnect Certification Testing Program is designed to certify organizations´ products and services for their conformance with the SIPconnect specification. The long-term goal of this certification program is to pave the way for better interoperability between SIP based products and services on a global scale.
3CX already supports SIPconnect v1.1. However, it is going to undertake the SIPconnect certification testing in order to be validated as fully compliant with all mandatory requirements of the SIPconnect Technical Recommendation v1.1. Once SIPconnect certified, every 3CX IP PBX can be easily connected via SIPconnect 1.1. to any certified SIP trunk. This will ensure 3CX users direct access to an even broader range of SIP trunks.
Nick Galea, 3CX CEO, said:
"The SIP Forum is a great initiative to ensure open standards and interoperability between SIP solutions and 3CX is very proud to have become part of it. In our role as a Full Member, we are excited to contribute to the further development of SIP standards."

Marc Robins, President and Managing Director of the SIP Forum, said:
"On behalf of the entire SIP Forum Board of Directors, we welcome 3CX as a new Full Member company. The support of 3CX in the ongoing operation of the association and in furthering the important initiatives that are underway are very much appreciated. In addition, the support of 3CX of our SIPconnect work, and the desire to become SIPconnect Certified, shows the importance that 3CX places on the need to demonstrate the highest level of SIP trunking interoperability in the industry today."
About 3CX (www.3cx.com)
3CX is a 100% channel company and is the developer of a software-based and open standards IP PBX which innovates communications and replaces proprietary PBXs. 3CX cuts telco costs and boosts company productivity and mobility.
With integrated WebRTC web conferencing, softphones for Mac and Windows and smartphone clients for Android, iOS and Windows phones, 3CX offers companies a complete Unified Communications package out of the box.
250,000 customers worldwide use 3CX including Boeing, McDonalds, Hugo Boss, Ramada Plaza Antwerp, Harley Davidson, Wilson Sporting Goods and Pepsi. Maintaining its global presence, 3CX has offices in the U.S., U.K., Germany, South Africa, Russia and Australia. Visit 3CX on Facebook, Twitter and on Google+.
About SIP Forum
The SIP Forum is an IP communications industry association that engages in numerous activities that promote and advance SIP-based technology, such as the development of industry recommendations; interoperability testing events including SIPit; and special workshops, educational seminars, and general promotion of SIP in the industry.
The SIP Forum is also the producer of the annual SIPNOC conferences (for SIP Network Operators Conference), focused on the technical requirements of the service provider community.
One of the Forum's notable technical activities is the development of the SIPconnect Technical Recommendation – a standards-based SIP trunking recommendation that provides detailed guidelines for direct IP peering and interoperability between IP PBXs and SIP-based service provider networks, and the SIPconnect Certification Testing Program, a unique certification testing program that includes a new certification test suite and test platform, as well as an associated "SIPconnect Certified" logo program that provides an official "seal of certification" for companies products and services that have successfully passed the certification test and officially achieved conformance with the SIPconnect specification.
For more information about SIP Forum initiatives, please visit: https://www.sipforum.org.