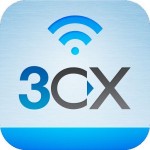 3CX Phone System version 11 is packed with features that extend user mobility and provides immediate cost savings to your telephony and PBX maintenance bills. It has been developed to work seamlessly with 3CXPhone for Android and iPhone – free softphones and full desktop phone replacements, which allow users to make phone calls via WiFi and 3G.
Users can now take 3CX MyPhone with them wherever they go as they can sign in to their PBX when in or out of the office from any computer. This allows users to see the presence and status of others, join queues, and take advantage of Unified Communications, such as instant messaging, from anywhere with an internet connection. Users can also see the presence of colleagues on bridged PBXs with 3CX MyPhone.
For more information, see the 3CX Phone System 11 Press Release here.