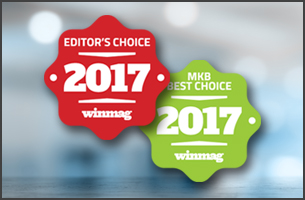 3CX has done it again! This time 3CX's award winning software PBX has picked up two awards from WinMag Pro. The Dutch magazine's 2017 Choice Awards have presented 3CX with the MKB Best Choice and Editor's Choice. With a readership of around 65,000 business and I.C.T. professionals and decision makers, WinMag Pro has long been regarded as a reliable source of information on the latest news, products and developments in the I.T. and communications industry.
Each year WinMag Pro releases the SME Best Choice Awards featuring the best solutions in hardware, software, unified communications, cloud, security and more. As a reputable publication and informative daily platform for serious I.T. hobbyists and professionals, the 3CX team is pleased to have been awarded for the second consecutive year.
The SME Best Choice Awards were deliberated by the WinMag Pro editorial team and are granted based on price, usability, functionality and overall quality. After finding that 3CX V15.5 scored top marks in all areas, editor Peter Guldenpfennig determined that it was the best product for the Editor's Choice Award 2017.
On his decision to award 3CX, Guldenpfennig commented:
"In the case of 3CX, the product scores very well on all criteria. One of the highlights is the inclusion of WebRTC technology, which makes the phone system of 3CX a definite UC solution when compared to other products on the market. Also, the scalability of the solution is definitely a big point, together with the open standards technology on which the phone system is built. The flexibility by allowing API's to integrate with 3CX also impressed me a lot."