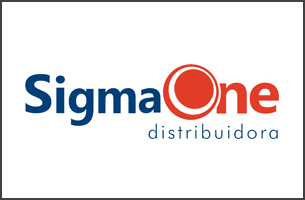 São Paulo, Brazil, 30 January 2018— 3CX, developer of the next-generation software-based Unified Communications Solution and São Paulo, Brazil-based SigmaOne are pleased to announce a new partnership, making SigmaOne an official distributor of 3CX.
Founded in 1985, SigmaOne has evolved into a vital partner for the ITC channel across the region. With a skilled team of specialists, equipped with broad technical expertise and hands-on experience, SigmaOne is set up to support organisations of different sizes and segments with enhancing their productivity and performance through innovative communication solutions.
Integrating 3CX´s innovative and competitive Unified Communications solution into their portfolio, SigmaOne reinforces its strong focus on value-adding services for the channel and its customers, offering much more than just a IP PBX solution. Dedicated to additionally provide comprehensive training and support to 3CX partners, SigmaOne will increase the product knowledge and implementation skills among 3CX resellers ensuring a successful and efficient installation, use and management of 3CX.
Ygor Voltolini, UC&C Core Product Manager, Sigmaone Distribuidora:

We are very excited to start this year with such an important partnership. With 3CX, we will provide the market with a cutting edge VoIP solution on a software-based unified communications multi-platform. Its easy integration, adaptability to customers' business requirements and the flexibility of deployment, make 3CX a strategic tool for any future-oriented companies. Moreover, we are excited to offer 3CX partners comprehensive training to ensure outstanding pre-sales consultancy and after-sales support for 3CX clients.

Gabriela Saborio Adamides, Sales Executive South & Central America, 3CX:

This partnership delivers innovative unified communications solutions to 3CX partners all across Brazil. Customers will enjoy the seamless transition to 3CX, its intuitive user experience, increasing productivity and efficiency as well as access to a global network of partners. With SigmaOne, 3CX has found an ideal partner to increase its market presence. Offering trainings and support for our local partners, SigmaOne enables 3CX customers to transform their communications capabilities and improve their overall business performance.
About 3CX (www.3cx.com)
3CX is a 100% channel company and is the developer of a software-based and open standards IP PBX which innovates communications and replaces proprietary PBXs. 3CX cuts telco costs and boosts company productivity and mobility.
With integrated WebRTC web conferencing, softphones for Mac and Windows and smartphone clients for Android, iOS and Windows phones, 3CX offers companies a complete Unified Communications package out of the box.
250,000 customers worldwide use 3CX including Boeing, McDonalds, Hugo Boss, Ramada Plaza Antwerp, Harley Davidson, Wilson Sporting Goods and Pepsi. Maintaining its global presence, 3CX has offices in the U.S., U.K., Germany, South Africa, Russia and Australia. Visit 3CX on Facebook, Twitter and on Google+.
About SigmaOne (www.sigmaone.com.br)
SigmaOne, the Brazilian distributor of Information and Communication Technology, has a complete portfolio of integrated solutions focused on optimizing the results of innovative companies. Companies that view technology as a way to increase team performance, improve services offered, promote operational gains, reduce costs and increase financial results.
As a value added distributor, we not only distribute products. We are always on the customer side in pre-sales consulting and in all stages of project development and deployment. So the sky is the limit because the results are more than positive, they are inspiring.
We have created a true partnership with our customers. We innovate. We are looking for ways to integrate all the information and knowledge that already exists in your company with SigmaOne solutions. We are ready to take your business to the next level.