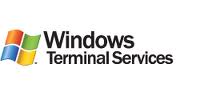 3CX is pleased to announce service 3CX Assistant client installer for Terminal Services. This installer allows you to install the 3CX Assistant on a Windows Server operating system which has been promoted to a Terminal Server.
Important Notes to take into consideration before installing
Version number of the 3CXAssistant for Terminal services is the following: 9.15035
This Version has been tested on Windows 2008 R2 with Terminal Services Role installed
This installation package is to be used only in terminal services scenarios.
TAPI will not work in the TS installation because TAPI is not multi user aware.
Outlook and any other applications that need to be installed, must be done AFTER the machine is promoted to a terminal server.
The 3CX Assistant should be installed AFTER the Windows Server is already a Terminal server.
This guide assumes that if you any previous installations of the 3CX Assistant for terminal services are Uninstalled before the Version 9 installation is initiated. Install-Overs are not supported and can cause problems.
If you remove/Uninstall the 3CX Assistant Terminal services installation, make sure that All active terminal sessions are logged off. This ensures that instances of Outlook, Assistant or 3CXPhone are not currently running on the TS.
Installation procedure:
Log in to the terminal server using the Domain Administrator Account. (The outlook add-on will only work for the Domain\Administrator account and will NOT work for the Local\Administrator Account)
Download the 3CX Assistant for TS installation package from here
Select whether you want CRM (Right click on CRM and select "Will be installed on Local Hard Drive") and optional 3CXPhone in the Custom Setup screen.
After the installation is complete, you can double click the 3CX Assistant Icon located on your desktop. You can now tell your users to start a TS session and start their Assistants from their Desktops.
How to identify that the Outlook plug-in has been registered correctly:
Open Outlook
Click on File/Options
in the Outlook Options screen click on Add-Ins
If you see the 3CX Assistant Microsoft Outlook Add-in in the Active applications Add-ins, then the add-in registration was successful. If the 3CX Assistant add-in is under the Inactive Appluication Add-ins, then the add-in registration failed
What to do is the plug-in does not register correctly. Perform the following steps:
Exit the 3CX Assistant
Exit Outlook
Navigate to the CRM folder example: C:\Program Files\3CX Assistant\CRM and locate the following executable "3CXCRMWizard.exe". Double click this exe. A script will run that will re-register/modify the outlook add-on on your current user profile.
Log off your TS session and log in again.
Start The 3CX Assistant and proceed to start Outlook. The add-in should be correctly registered now.