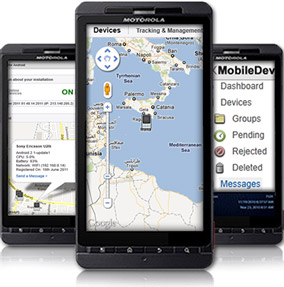 London, UK – May 30, 2012 – 3CX, developer of the popular Windows-based VoIP PBX, 3CX Phone System, has announced the Beta launch of its new service, 3CX Mobile Device Manager, which allows users to monitor, manage and secure their mobile devices through an online dashboard.
3CX Mobile Device Manager provides an excellent sales opportunity for 3CX Partners as the number of mobile devices being manufactured is growing at a phenomenal rate. IDC Research has estimated that close to one billion mobile devices will be manufactured in 2013. Osterman Research has shown a steep uptrend of companies deploying mobile devices to their workforce, with a predicted 33% of US employees using company apps and having confidential corporate data on their smartphones and tablets by the end of 2012. ABI Research estimates the mobile device management market will be worth $11 billion by 2016.
What is 3CX Mobile Device Manager?
3CX Mobile Device Manager is a hosted mobile device management service. It allows businesses to secure their mobile devices, monitor the movement and usage of them and assists in managing apps and data on all connected devices. Android devices are currently supported and support for iPhone and iPad will be added soon. A deployable version of 3CX Mobile Device Manager is being developed for companies that prefer not to use a hosted service, and will be ready in 2012.
Secure Your Data – Remote Lock or Wipe a Device if Lost
Because of all the sensitive data on mobile devices, such as confidential client emails and contact details, businesses can't afford to have them fall into the wrong hands. Studies have shown that, on average, $7m worth of mobile phones go missing every day. With 3CX Mobile Device Manager, users can locate lost devices via Google Maps in the online dashboard in order to recover them. The lost phone or tablet can be remotely locked or wiped to avoid unauthorized use, even if it isn't connected to the internet.
Manage Apps on Android Connected Devices
With 3CX Mobile Device Manager, companies have complete control over apps as they can see which apps are installed on each of their devices. If a rogue app is found, administrators can issue the command to have it uninstalled. Apps can be remotely deployed to any number of connected devices simultaneously, rather than manually for each individual Android device, thus saving a lot of valuable time. Also, apps such as private betas or custom corporate apps do not need to be uploaded to Google Play or other public marketplaces first.
Detect Malware-Infected Apps and Remotely Remove Them
Malware is fast becoming a problem for smartphone users – recent findings indicated a 472% increase in Android malware since July 2011. Mobile malware can lead to personal or confidential client information being exposed! With 3CX Mobile Device Manager, you can easily monitor managed devices for apps infected with malware and remotely remove them if needed.
Find and Track Mobile Devices
As well as being able to recover lost devices, being able to see their location in real time allows users to see where employees are and redirect them to customer call outs in order to improve customer response time. 3CX Mobile Device Manager allows users to track device movement over a period of time, meaning they can ensure the most efficient routes are being taken by employees in the field. Pinpoint locations can also be sent to a device so that employees know exactly where they need to go.
"Mobile Device Management is an exciting new market for 3CX and our partners. 3CX Phone System administrators are likely in charge of both the phone system and the company's smartphones. Smartphones are increasingly used as endpoints in a PBX and so they need to be manageable. Furthermore, security of smartphones is of paramount importance and 3CX technology and know-how in smartphone application development will be instrumental in providing customers with a cutting edge, easy to use and affordable mobile device management solution. An on-premise version of 3CX Mobile Device Manager for companies that do not want to use a hosted service will be available by the end of the year," said Nick Galea, 3CX CEO.
How to Sign Up
About 3CX
3CX is the developer of 3CX Phone System – an open standard unified communications platform for Windows that works with standard SIP phones and replaces a proprietary PBX. 3CX is more manageable and can deliver substantial cost savings besides increasing productivity. Leading companies worldwide such as Caterham F1, Boeing, Ohio State University, MIT and RE/MAX use 3CX Phone System. 3CX has been listed as a CRN 2011 Emerging Vendor and has earned Windows Server Certification as well as other numerous awards, including The Windowsnetworking.com Gold Award, the Windows IT Pro magazine 2008 Editor's Best Award and a Best Buy Award by Computer Shopper Magazine. 3CX has offices in the UK, USA, Germany, Cyprus, Malta, Australia, South Africa and Hong Kong. For more information, visit: https://www.3cx.com and find us on Facebook at http://www.facebook.com/3CXMobileDeviceManager and http://www.facebook.com/3CX/.