Yes, we've done it again! After popular demand from our partners and end users we have developed a 3CXPhone client for Windows Smartphone. The 3CXPhone for Windows Phone can be used on Windows 10 devices only. Just like our existing 3CXPhone clients for iOS and Android the new Windows Phone client will allow you to take your office extension with you wherever you are! Increased mobility and productivity as well as reduced phone bills are some major advantages that Windows Phone users will now have the chance to experience.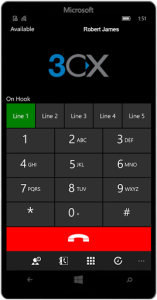 3CXPhone for Windows 10 is the first SIP Phone for Windows Phone and can also be used with any version of 3CX Phone System.
Follow this simple procedure to try out the 3CXPhone for Windows Phone client:
We look forward to receiving your feedback in the comment box below or on our forums.