Get Your Hands on the New 3CX iOS Client!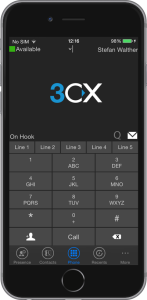 Following the technical preview of 3CX Phone System v14, Apple has approved our new 3CXPhone client for 3CX Phone System v14. One of the coolest new features of the new iOS client is that it basically works almost like a regular GSM call. What does that mean? The client fully supports Apple's new VoIP Push (requires iOS 8.1) which wakes up the phone & 3CXPhone when a call is coming in, so that you can answer the call immediately. This also consumes less battery.
Answer calls directly from your lock screen! Don't waste time trying to unlock your phone in order to answer a call. Just swipe the screen and answer! Your incoming 3CXPhone calls also ring like a regular phone call too.
3CXPhone for iOS is a complete rewrite that drastically improves our support for iPhones and iPads:
Completely new SIP engine
INTEGRATED TUNNEL
Starts up much faster
Auto detects location – No need to set out of office or in office
Wakes up phone and allows immediate pick up of call
Improved PUSH support – using Apple VoIP Push, 3CX PUSH messages get priority over others.
Drastically reduced battery usage
Improved reliability and sound quality
Inclusion of new call history in the clients
Ability to send welcome email from client
Unsupported message if a v14 client talks to a v12 PBX
Removed DND Button
Profiles now are named Available, Away Do Not Disturb, Lunch, Business Trip
Easier to provision using 1 FQDN
Download links