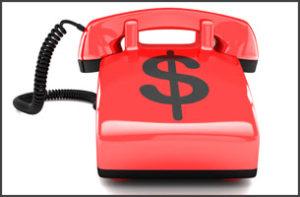 How do you save money on calls with IP Telephony? 3CX finds the cheapest way for your call to reach the person you're calling.
With 3CX, IPTelephony, calls travel first over the data network, where there is no cost. Calls between offices using 3CX, for example, are free, because they never leave the network.
Of course, some calls have to leave the network to reach users on carriers like BT or AT&T or Deutsche Telekom, which connect the calls to ordinary phones or mobile phones. Calls with these destinations cost money, so 3CX employs least-cost routing: A set of mathematical algorithms to automatically select the cheapest route for all outgoing calls.
That is, least-cost routing chooses which path, on the data network, the call should take, and then at what point the call should join the PSTN, selecting the cheapest carrier, so that the user pays the lowest possible cost.
With 3CX, IP Telephony uses a least-cost routing system that can continuously receive call charge information from multiple trunks and frequently updates its database using the latest call charge information. In this way, it can calculate the cost of a given call at a given time with a specific destination.
But least-cost routing is just one way that 3CX saves money with IP Telephony. Calls to smartphones, for example, can travel free when they have the 3CX app installed – with 3CX, it's possible to almost never make a GSM call on a mobile. Users can save money with chat and messaging as well, which are also no-cost options.
Even video conferencing can take place at no charge using 3CX clients — send a link to the person you wish to talk to, and, with 3CX's WebRTC-based platform, one click puts you both in a video conference. There's no need to use an 800 number.
Learn more about how 3CX can save money with IP Telephony here or just download 3CX free here.