This document explains step by step how to upgrade the firmware of your Patton to the latest version. This doc uses the Patton 4554 as an example, however all other Patton devices follow an almost identical procedure.
Step 1: Download the appropriate firmware for your Patton
1. Go to the firmware repository on the Patton website.
2. Now choose the Smartware firmware version you want. Choose the latest firmware recommended by 3CX. Contact 3CX Support.
3. Register on the Patton website on order to receive the credentials to logon to the website. As soon as you are logged on you will be able to download the firmware.Save the zip file to a location on your computer.
Firmware files use this naming convention: SN4554_SIP_R5.4_2010-01-17.zip
Step 2: Import the new firmware to the Patton Smartnode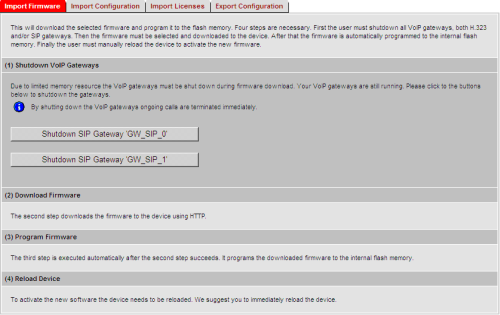 Screenshot 1 – Import firmware main screen
1. Now log into the Patton Smartnode Device and click on the IMPORT/EXPORT tab at the
top left hand column of the main configuration home page.
2. Click the Shutdown SIP Gateway buttons, to shut down the available Gateways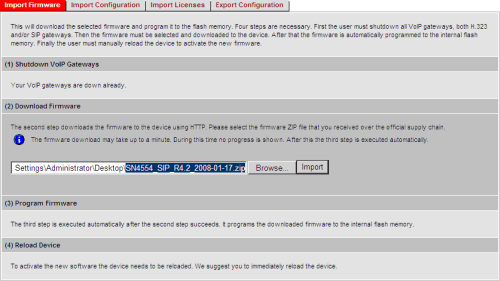 Screenshot 2 – Importing the latest firmware
3. Now click on the Browse button and locate the file you downloaded, for example 'SN4554_SIP_R4.2_2008-01-17.zip', and click on 'Import'.
Wait for the Patton to program the firmware to the internal flash memory.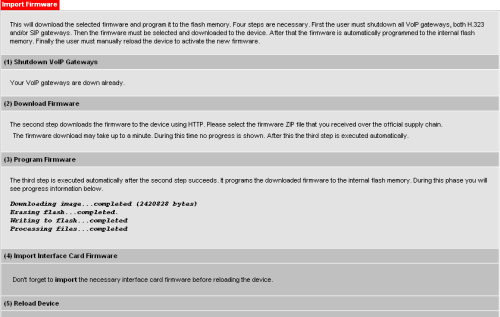 Screenshot 3 – Device status after the upgrade process has completed
4. After the import has been completed, the screen will look similar to the above screenshot.
You will now be asked to reload the device. Click the 'Reload Button'.
Once reloaded your Patton Smartnode will be upgraded to the latest firmware.