3CX Cloud PBX: Resell or Self Host and Cut Costs!
By choosing a hosted solution, customers and resellers can enjoy feature-rich, reliable communications without having to worry about the maintenance associated with traditional phone services, resulting in cost savings and less time spent on tedious admin tasks.
3CX is a cloud-ready PBX, designed to be self hosted in the cloud as a dedicated instance with your choice of cloud provider, giving customers and resellers full control over their PBX and data. 3CX in the cloud offers customers a fully virtualized instance together with an advanced UC feature set – enjoy a hosted business phone system without compromising on functionality.
Self Host and Retain Control
3CX's Cloud PBX allows customers or resellers to self host their PBX on their choice of VPS cloud provider – allowing them to retain full control and freedom of choice.
Leaves customer or reseller in complete control of PBX

No sharing of resources and data with other hosted PBXs
Freedom of Choice and Reduced Costs
Many cloud PBX systems cost as much as $20 per extension per month and will lock you into higher telecom rates or long term contracts. Not so with 3CX. Cut costs by choosing your own cloud provider, SIP trunks and IP phones!
Save big – no more per extension pricing

Cut your phone bill – use cost effective SIP trunking

Don't get locked into multiyear contracts

Switch between on-premise or hosted at any time
Deployed in Minutes with the PBX Express!
The PBX Express enables users and resellers to easily setup a complete cloud PBX in a cloud of their choice. 5 simple steps and your 3CX instance will be deployed on a Linux VPS of your choosing with a full range of Unified Communications features. It's free for up to 16 sim calls and 25 web conferencing participants.
Simple 5 step setup wizard

Deploy on Google, Amazon Lightsail, Azure & others

Fraction of the cost of other cloud solutions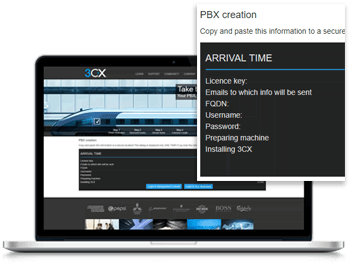 3CX is a fantastic solution! I have done 3 recent installs in the cloud and 3CX Phone System version 14 is great. I have even moved my own 3CX into the cloud and all my field staff are now working great. I know from installing telephone systems that clients like to see flashing lights on the wall but now they are happy to see them gone. It's far cheaper than a pay per seat solution. Comparing 3CX with other vendors in the market it outperforms them in terms of functionality but also includes features such as voicemail to email, CRM, WebRTC etc at no additional cost. I trust 3CX so much that I have dropped Avaya IP office, Draytek, Panasonic and NEC.
Check out other 3CX Features
Free for up to 1 year! Select preferred deployment:
On-Premise
for Linux on a $200 appliance or as a VM
On-Premise
for Windows as a VM
On the cloud
In your Google, Amazon, Azure account