The 3CX Tunnel app allows you to bypass network restrictions that mobile data carriers or WiFi hotspots impose on your internet connection, as well as help negate other network related issues. The iOS implementation of the 3CX Tunnel app is subject to functionality restrictions relating to how Apple's iOS platform operates. In this post we explain what these restrictions are.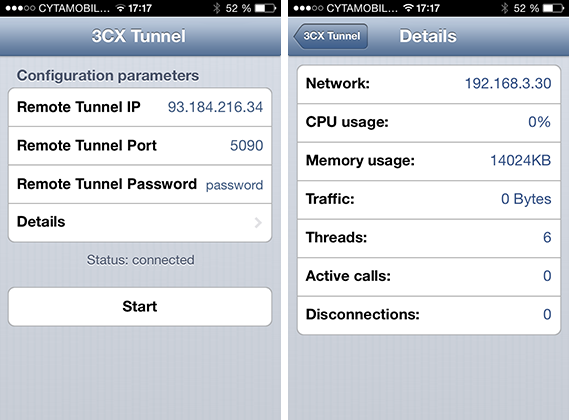 Why isn't 3CX Tunnel built-in with 3CXPhone for iPhone?
3CXPhone for iPhone is the only 3CXPhone client that does not have 3CX Tunnel built-in. This is due to a limitation in iOS where developers are not allowed to use application frameworks which dynamically load code at runtime (like .dll's in Windows). Apple needs to sign all code that goes in the Apple App Store and, because pre-compiled framework code cannot be signed, it is not allowed on the App Store.
Why does the 3CX Tunnel app Stop?
iOS is designed to quit apps that are sent to the background to save battery and system resources. 10 minutes after the 3CX Tunnel app has been sent to the background, iOS will automatically terminate it. For this reason the 3CX Tunnel app should only be used when experiencing issues placing outbound calls. When your call is done, 3CX Tunnel should be turned off, as to not interfere with 3CX Push notifications. For instructions on how to configure and use 3CXPhone for iPhone with 3CX Tunnel, read our configuration guide.
Give it a try today! Download 3CXPhone for iPhone from the Apple App Store.