Many of you deploy 3CXPhone to both iOS and Android mobile devices. However, these two platforms have some significant differences in how they operate, which in turn impacts how 3CXPhone functions. Here we answer four frequently asked questions regarding differences between 3CXPhone for iPhone and 3CXPhone for Android. We also provide solutions that will ensure that you enjoy the same high quality experience using 3CXPhone on both platforms.
Why Can't I See Presence, Call History or Contacts on my iPhone?
In order for Presence, Call History, Forwarding rules and Contacts to be displayed in 3CXPhone, a connection to the 3CX Phone System via HTTP or HTTPS must be established. Unlike other 3CXPhone clients, once 3CXPhone for iPhone detects a HTTPS configuration, it will ONLY use the secured HTTPS connection to connect to the 3CX Phone System and will NOT fall back to HTTP. If the HTTPS FQDN has been misconfigured, 3CXPhone may register through SIP and be able to place calls, but it will not however show Presence, Call History, Forwarding rules and Contacts. Read our detailed guides on how to configure your internal and external FQDNs.
To check if your client is correctly connected to 3CX Phone System: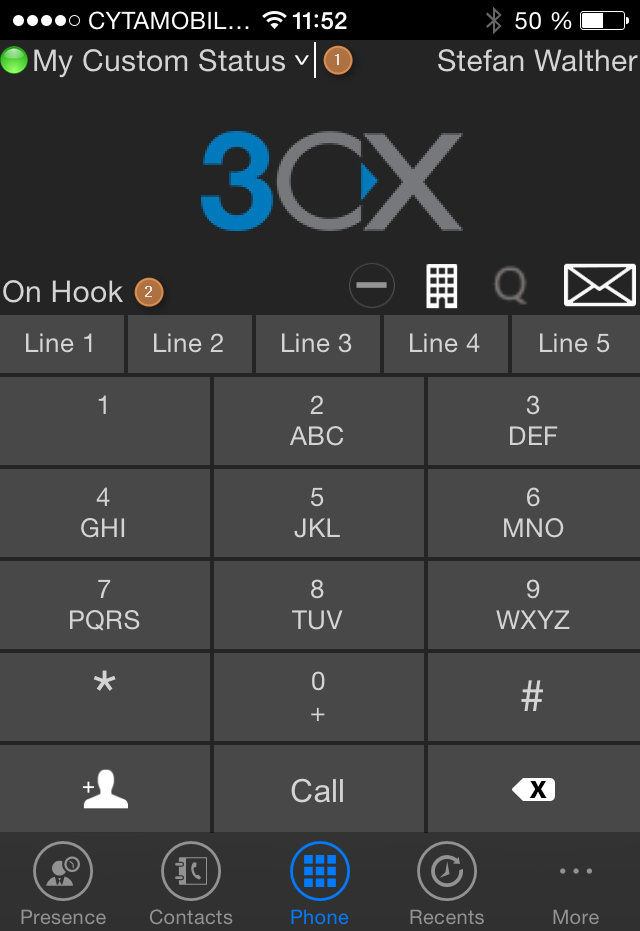 Verify that your status is displayed on the top left corner. This indicates that MyPhone connection is active.
Look for "On Hook" displayed in the dial screen. This indicates a successful SIP registration with 3CX Phone System.
Why do I Enjoy Better Audio Quality on 3CXPhone for iPhone than Android?
This is most likely attributed to the fact that the hardware that iOS runs on is standardized by Apple. All Apple devices feature a hardware echo cancellation module (DSP – Digital Sound Processor) which we activate and use in our client. The DSP automatically filters background noise and echo before sound is received by our client, this way 3CXPhone sends a clean audio stream.
Why does 3CXPhone for iPhone not Run in the Background?
Unlike Android, Apple's philosophy in iOS is that if you place an application in the background, you are no longer interested in its use. So when you press the "Home" button on your iPhone, iOS will quit the 3CXPhone app, saving battery and allocating system resources to the app that runs in the foreground. When 3CXPhone is not running, PUSH mode is automatically enabled. In PUSH mode, when a call is received, it will wake up your phone. For more information on enabling PUSH for iPhone, read our detailed, step-by-step guide.
Why doesn't 3CXPhone for iPhone Drain my Battery as it Does on Android?
Lets assume that 3CXPhone for iPhone could run in the background, like Android. While 3CXPhone is running, it maintains an active connection to the 3CX Phone System keeping either the 3G/LTE modem or WiFi adapter alive. This would drain your battery quicker and take up system resources, decreasing your iPhone's usability. On your Android phone, to save battery, instead of pressing the "Home" key sending 3CXPhone to the background, exit the 3CXPhone app by pressing the "Menu" key and taping "Exit". Exiting the app will enable PUSH mode which will allow your phone to sleep, and notify you when an incoming call is received on your extension. For more information on enabling PUSH for Android, read our detailed, step-by-step guide.
Download 3CXPhone for iPhone today!