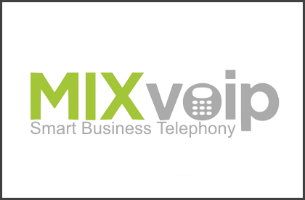 We've added yet another new SIP trunk to our ever-growing list of supported providers. This time we would like to introduce you to Luxembourg-based telco provider MIXvoip. We have now completed interop testing between MIXvoip's SIP trunk and 3CX 15.5 and, following the successful outcome, MIXvoip can now be selected for use in the management console.
MIXvoip has been providing its services since 2008 and specialises in the cloud and on-premise telephony solutions for business customers. With a strong team of engineers and technicians and 35 dedicated staff, MIXvoip offers a flexible, reliable and cost-effective SIP trunking service to customers throughout Europe and the U.S.
After rigorous testing, we have now made it as simple as a few clicks in the management console to get your MIXvoip SIP trunk up and running with your 3CX PBX. All you need to do is log in, follow our step-by-step guide and use the pre-configured template that we have created for use of MIXvoip with 3CX. It should be noted that you are required to be running 3CX 15.5 SP1 to use this SIP trunk.
Take a look at our guide to get started with setting up your MIXvoip SIP trunk with 3CX.