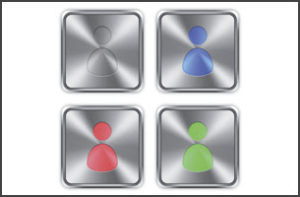 With the latest version of 3CX WebMeeting, users now have the option to use advanced meeting room moderation options. These options give you the ability to assign user roles to each web meeting participant as well as accept or reject users who try to connect to your meeting. Additionally, connected users can be removed from an ongoing meeting.
How it Works:
Giving permissions to different users is easy, as seen below, the meeting creator clicks on the "Role" icon and simply selects the role he wants to assign to this user. An organizer or meeting creator can assign the following roles:
Participant: Can only participate in a meeting as an observer. Also in some cases he or she can enable/disable his microphone and webcam as well as requesting remote assistance.

Presenter: Has permissions to use presentation related features such as PDF Sharing, Screen Sharing and Polling.

Organizer: Has access to all functions.
*Below, John Smith, the meeting creator and organizer assigns various roles to participant Ann Marie

Detailed  User Role Chart:
See below a detailed chart on what features can be accessed with each user role:
| | | | |
| --- | --- | --- | --- |
| Responsibility | Organizer |    Presenter |    Participant |
| Can Control his own Chat |         ✔ |           ✔ |           ✔ |
| Can Control his own Audio / Video |         ✔ |           ✔ |           ✔ |
| Share screen |         ✔ |           ✔ | |
| Share and Upload PDF |         ✔ |           ✔ | |
| Provide Remote Assistance |         ✔ |           ✔ | |
| Invite Participants |         ✔ | | |
| Promote to Presenter/Organizer |         ✔ | | |
| Demote to Presenter/Organizer |         ✔ | | |
| Control Audio, Video, Chat for others |         ✔ | | |
| Access to Polling Functions |         ✔ | | |
| Can END a Meeting |         ✔ | | |
| Kick User |         ✔ | | |
| Reject / Accept Joining a Meeting |         ✔ | | |
Kicking a User:
We've also included a new function that gives meeting room organizers the ability to remove unwanted participants from their meeting. This feature is quite simple to use. Just click on the name of the user you would like to remove from the meeting and click the "Kick" button that subsequently appears.
After doing so, the "Kicked" user gets a notification on his screen which informs him that he is being removed from the meeting.
*Below, John Smith, the meeting creator and organizer kicks the participant Ann Marie from the meeting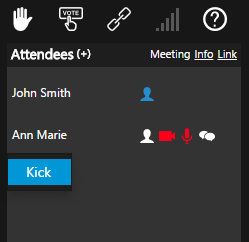 Meeting Access:
As mentioned, you can also Accept or Reject users attempting to enter your meeting room. This functionality is particularly important when using 3CX WebMeeting in a call center or support center environment. For example, in a scenario where one of your support representatives has shared a meeting link to a customer/partner to join a support meeting and the customer attempts to join the meeting. This user will not be able to join the meeting unless the Organizer/s press the accept or reject buttons as shown in the example below.
*Below, John Smith, the meeting creator and organizer, has the option to Accept or Reject the participant Ann Marie from entering the meeting room.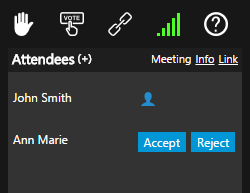 For more detailed information read our user manual chapter "Moderate Users and Classes".