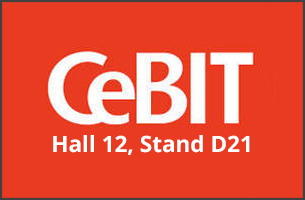 For Business Digital and Technology Enthusiasts, Spring can only mean one thing: CeBIT! This year's exhibition will be taking place once again in Hannover, Germany from Monday 20th – Friday 24th March.
The Communications & Networks topic at this years highly anticipated event, is focused around the broad scope of communication and connectivity methods within the workplace. Attendees will get a look at how all channels can be consolidated into one highly efficient and productive network, new solutions & technologies, and of course, how 3CX fits perfectly into the future of business communications.
Join Team 3CX in Hall 12, Stand D21 for a live demo of 3CX v15 and look at its latest features. Have a chat with the experts about what's in store for 3CX and get a chance to ask your questions!
The following team members will be in attendance at the exhibition:
Nick Galea, CEO
Marcus Kogel, Sales Manager, mk@3cx.com
Marc Satzger, Sales Manager DACH, msa@3cx.com
Marcos Valassas, Sales Executive DACH, mva@3cx.com
Sebastian Balan, Regional Sales Manager Northern Europe, sbalan@3cx.com
Katerina Burtsava, Sales Executive Eastern Europe, kbu@3cx.com
Avraam Michaelides, Engineer – Support
Please schedule an appointment via email to avoid disappointment. We look forward to seeing you at CeBIT 2017!