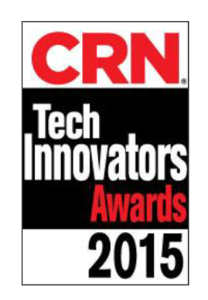 3CX WebMeeting Takes Top Honors in the 2015 Software Productivity Category
LONDON, UK, November 16 , 2015 – 3CX, announces today that it has been named one of the IT industry's leading tech innovators by CRN®. The 2015 CRN Tech Innovator Awards recognize standout companies that have brought to market hardware, software or services that have substantially impacted the industry. In compiling the Tech Innovator list, a panel of CRN editors evaluated 200 products across 19 categories based on a number of factors, including technical advances, unique features and ability to empower solution providers to solve end-users' IT challenges. 3CX WebMeeting took top honors in the Software Productivity category.
3CX WebMeeting is a web conferencing solution which is WebRTC based and eliminates the use of clients and plugins. 3CX WebMeeting, is an easy-to-use web conferencing solution, that transforms the way employees communicate and collaborate within an organization and with  its customers. It allows businesses to save time and money by hosting meetings online. 3CX WebMeeting is offered with three different deployment options: Integrated with 3CX Phone System, 3CX WebMeeting Server (On-Premise) and hosted by 3CX. Designed to be more than just another web conferencing solution, 3CX is part of an elite few that excel in their offering, as such they have been named CRN's Software Productivity Tech Innovator of the year.
Nick Galea, CEO of 3CX said:
This award is a double win. Not only does it recognize our continuous innovation in Unified Communications but also the innovation we have brought to the industry by introducing the first web conferencing solution that leverages WebRTC. This is proof that our continuous efforts are being embraced by many users who in turn are embracing the benefits a clientless web conferencing solution and a software-based PBX have to offer, something that makes us very proud.

"In this rapidly evolving tech marketplace, it's critical that vendors are bringing products to the channel that help solution providers quickly deliver value to their customers," said Robert Faletra, CEO of The Channel Company. "The products chosen for this year's Tech Innovator Awards are solving difficult IT problems, reducing complexity or otherwise contributing to the growth of enterprises worldwide."
The annual Tech Innovator Awards are showcased in the December issue of CRN magazine, and the complete list of winners and honorable mentions is available at crn.com/techinnovators.
Tweet This:
@TheChannelCo Names @3CX to 2015 @CRN #CRNTechInnovators crn.com/techinnovators
About 3CX (www.3cx.com)
3CX is a 100% channel company and is the developer of 3CX Phone System and 3CX WebMeeting. 3CX Phone System for Windows is a software-based, open standards platform which innovates communications and replaces proprietary PBXs. 3CX Phone System cuts telco costs and boosts company productivity and mobility with the 3CXPhone clients for iOS, Android, Mac and Windows.
3CX WebMeeting is a hassle-free web conferencing solution which leverages WebRTC technology, eliminating the need for any plugins or clients. Browser-to-browser communication and click2call as well as advanced online classroom features are just a few of the popular features of 3CX WebMeeting.
With 30,000 customers worldwide, some of the world's leading companies and organizations use 3CX Phone System, including Boeing, McDonald's, Hugo Boss, Ramada Plaza Antwerp, Harley Davidson, Wilson Sporting Goods and Pepsi. Maintaining its global presence, 3CX has offices in the U.S., U.K., Germany, Hong Kong, South Africa, Russia and Australia. Visit 3CX on Facebook, Twitter and on Google+.
Follow The Channel Company: Twitter, LinkedIn and Facebook
About The Channel Company
The Channel Company, with established brands including CRN®, XChange® Events and IPED®, is the channel community's trusted authority for growth and innovation. For more than three decades, we have leveraged our proven and leading-edge platforms to deliver prescriptive sales and marketing solutions for the technology channel. The Channel Company provides Communication, Recruitment, Engagement, Enablement, Demand Generation and Intelligence services to drive technology partnerships. Learn more at www.thechannelcompany.com.
The Channel Company, CRN®, XChange® Events and IPED® are registered trademarks of The Channel Company, LLC. All rights reserved. All other brand names, product names, or service names that appear herein are trademarks or service marks of their respective owners.