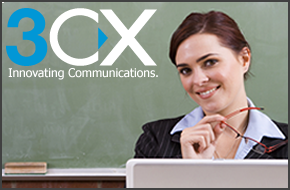 3CX Academy has been re-vamped with new online trainings. Our online trainings are held using our very own 3CX WebMeeting software to make them as interactive and as educational as possible – it's as if you're physically in the same room with the rest of the class! In addition to the online trainings we have also refreshed our training materials. Our training videos have been updated and can be viewed as Google slides and we have also added new documentation to the training process. To top it all off you can now take the 3CX Certification process straight from your 3CX ERP account!
Refreshed Training Materials
We have updated our online video tutorials with updated content and have added documentation to the training process. You can find all documentation and updated videos for the 3CX Certified Engineer test here and for the 3CX Advanced Certified Engineer test here.
New Online Training Events
What's more in addition to the updated materials we have now started holding online training events in the form of webinars, helping you understand how to use and sell 3CX Phone System for Windows. At the end of each webinar there is a Q&A session to answer any questions you may have. The webinars are held by our own 3CX Technical Trainers using 3CX WebMeeting software. Even though the upcoming scheduled events are now fully booked, you will be able to watch the recorded sessions on our website. 3CX online trainings are ongoing so make sure you keep an eye out for the next batch which will be announced on our blog.
Easier 3CX Certification Process
You can now sign into your 3CX ERP account and take the 3CX Certified and Advanced Certified Engineer tests. Upon passing each certification level, you will be awarded with a certificate and 3CX Certified Engineer or 3CX Advanced Certified Engineer logo. Use your certification logos on your website and office stationery to promote 3CX Certified Partner status. By becoming a 3CX Certified or Advanced Certified Engineer you not only get listed on our website  but your also have a major advantage over non-certified partners as you can handle larger and more complex installs of 3CX Phone System. For more information visit our 3CX Academy page or contact us on customers@3cx.com .