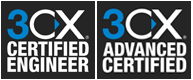 The 3CX Certification Program is designed to boost 3CX Partner's profitability by providing the necessary resources and knowledge to deploy, troubleshoot and support 3CX Phone System for Windows.
Up until now, 3CX Partners were allowed to add up to four different candidates to take the 3CX Certification exam through the 3CX ERP. We are now offering our partners the ability to certify additional staff, enabling you to better support your customers and to grow your business.
Refreshed Training Material & Online Training Events
We have recently re-launched our 3CX Academy with fresh training material, including updated online video tutorials and documentation. We also offer our partners online training events which are as interactive and educational as possible, using our 3CX WebMeeting software.
Taking the 3CX Certification Exam
3CX Partners can take the 3CX Certification exam by signing into their 3CX ERP account. However, if you have already used your four seats available in the ERP and wish to certify additional staff you need to apply here! Note that you can only take the exam once! A re-sit is permitted after 31 days.