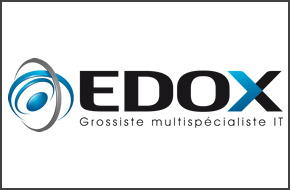 New 3CX Distributor to empower 3CX Partners in France by providing sales and technical support, licences, and free partner training events.
LONDON UK and MULHOUSE, FRANCE, 11 OCTOBER 2013 – 3CX, developer of the award-winning Windows VoIP PBX 3CX Phone System, today announces that Edox has been named as an authorized 3CX Distributor for the French market. With its recent opening of an office in Paris and the announcement of Edox as a new distributor, 3CX continues to make inroads into France, the world's third largest VoIP market. As a new distributor, Edox will promote 3CX throughout France by hosting training events, where 3CX Partners will be shown how to optimally configure 3CX Phone System. Edox will also provide licensing and sales training, which is geared towards assisting the partners increase their revenues and profiting from this growing market.
"It's a great honour for Edox to have been appointed as a 3CX Distributor for the French market and we're excited about the prospect of passing on our wealth of experience to the growing 3CX Partner network," said Philippe Ginot, Edox CEO. "3CX Phone System for Windows is the perfect product for the French market as it's the best-of-breed IP PBX solution that increases productivity whilst being competitively priced. Edox has been a key player in the IP PBX and Unified Communications market in France for 7 years and are confident that our wide-ranging support services will enable partners to effectively sell 3CX Phone System. It's our mission to provide high quality ongoing support to all 3CX Partners and their customers."

"Our new partnership with Edox confirms our commitment and determination to strengthen our market share in one of the world's largest technology markets," said Kristel Aszody, 3CX Account Manager. "We are looking forward to working closely with Edox as they are a distributor that can work with our current 3CX Partners by providing them training, licensing and support as well as inspiring new IT resellers to join the award-winning 3CX Partner Program and increase their revenues."
All Edox partners that signup to the 3CX Partner Program will be offered the opportunity to purchase a snom starter kit at a discounted price with a free 3CX NFR licence key.
About 3CX (www.3cx.com)
3CX is the developer of 3CX Phone System and 3CX Mobile Device Manager. 3CX Phone System is an open standard unified communications platform for Windows that works with standard SIP phones and replaces any proprietary PBX. 3CX Phone System is more manageable than standard PBX systems and delivers substantial cost savings while increasing productivity. Some of the world's leading companies and organizations use the 3CX Phone System, including Boeing, the Caterham F1 Team, Intercontinental Hotels & Resorts, Harley Davidson, and MIT.
3CX was named a CRN Emerging Vendor in 2011 and 2012 and has been awarded CRN's 5-Star Partner Program rating in 2013. 3CX has also been awarded Windows Server Certification and won the Windowsnetworking.com Gold Award, the Windows IT Pro 2008 Editor's Best Award and a Best Buy Award from Computer Shopper.
3CX Mobile Device Manager is an inexpensive hosted and on-premise mobile device management solution that allows businesses to easily manage, secure, monitor, find and track their iOS and Android smartphones and tablets from an easy to use dashboard. 3CX has offices in Australia, Cyprus, Germany, Hong Kong, Malta, South Africa, the UK and the U.S. Visit us at: https://www.3cx.com, and on Facebook at: www.facebook.com/3CX/ & www.facebook.com/3CXMobileDeviceManager.
About Edox (www.edox.com)
EDOX is primarily specialized in enterprise infrastructure networks. First VAD France on brands like D-Link and Zyxel, EDOX provides a network of 3,500 dealers all products to connect, secure and optimize enterprise networks.
Present for more than 20 years in the computer world, EDOX now offers its expertise to resellers in the world of telephony and video surveillance.
It is therefore natural that in the last few years, the EDOX offer has included five new partnerships in the field of IP telephony.
To assist resellers, a team of 12 technical and sales executive regularly trained by the manufacturers is at their disposal to study the end users' projects.
With over 10,000 references and a particularly large stock, EDOX delivers products to resellers anywhere in France within 24 hours.