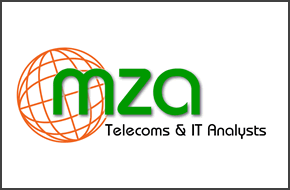 LONDON UK, 26 MARCH 2014 – 3CX, developer of the award-winning Windows VoIP PBX 3CX Phone System, was the fastest growing PBX vendor over the last four quarters (Q4 2012 to Q3 2013 inclusive) according to research from MZA, with the company's call control licence shipments growing by 52% year-on-year in Q3 2013. 3CX is experiencing an unparalleled level of growth, despite the tough climate within the wider global PBX market which saw a 7% decline in the same period.
By taking advantage of the growing demand for software based Unified Communications solutions, 3CX has avoided the difficulties now facing the providers of traditional PBX systems that use proprietary hardware, which are struggling with a lack of functionality and high costs. 3CX's growth is indicative of the broader trend within the telephony market, which is seeing a marked shift away from traditional proprietary PBX systems to VoIP. The research from MZA reveals a 3% increase in the IP extensions market in Western Europe in Q3 2013, with IP extensions representing 57% of the market.
3CX Phone System Plugs Market Gap
Having identified a gap in the PBX market, 3CX developed a software-based phone system specifically designed to run on Windows. 3CX Phone System has since achieved a comparative advantage by bringing to the market a user friendly, feature-rich phone system, which enables businesses to achieve significant cost savings and improved productivity. The report from MZA underscores the success of 3CX's strategy, which has sought to support businesses in the move to a software-based communications solution.
Will Parsons, co-reporter of MZA's Quarterly PBX/IP PBX Analysis, said:
"3CX is without question a significant emerging player in the global market for PBX extensions and call control licences. In a time where businesses budgets are often restricted due to economic constraints, the cost savings, the ease of maintenance and the full functionality of the 3CX Phone System has proved to have a wide appeal in the market place."

Nick Galea, CEO, 3CX said:
"Our impressive growth, highlighted in the MZA report, is a testament to high quality of the 3CX Phone System. 3CX Phone System has successfully responded to the urgent need from businesses around the world for a cost effective, software-based, Unified Communications solution. Our phone system offers a feature-rich, yet reliable solution, enabling companies to save money and time so that they can focus on their core business. In 2014 we expect 3CX to go from strength to strength as more businesses make the move from traditional proprietary PBX systems, to VoIP"
-Notes to Editors-
Source: MZA PBX/IP PBX Market: World Quarterly Edition, Q3 2013, published December 2013. All percentages are based on year-on-year user licence/extension volume figures
About 3CX (www.3CX.com)
3CX is the developer of 3CX Phone System which is an open standard unified communications platform for Windows that works with standard SIP phones and replaces any proprietary PBX. 3CX Phone System is more manageable than standard PBX systems and delivers substantial cost savings while increasing productivity. Some of the world's leading companies and organizations use the 3CX Phone System, including Boeing, Mitsubishi Motors, Intercontinental Hotels & Resorts, Harley Davidson, City of Vienna and Pepsi.
3CX was named a CRN Emerging Vendor in 2011 and 2012 and has been awarded CRN's 5-Star Partner Program rating in 2013. 3CX has also been awarded Windows Server Certification and won the Windowsnetworking.com Gold Award, the Windows IT Pro 2008 Editor's Best Award and a Best Buy Award from Computer Shopper. 3CX has offices in Australia, Cyprus, Germany, Hong Kong, Malta, South Africa, the UK and the U.S.
Visit us at: https://www.3cx.com, & on Facebook at: www.facebook.com/3CX/.
About MZA (www.mzaconsultants.com)
MZA specialises in the provision of marketing consultancy services to the telecommunications and IT industries at a European and Global level, with expertise covering a wide range of consumer-based and professional voice, data and mobile solutions. The above information is based on an extract from our study, "The Global Telecommunications Market," widely regarded as the definitive study on equipment markets. MZA produces detailed quarterly statistics on the global, regional and key country PBX and IP PBX markets, tracking more than 20 vendors active.