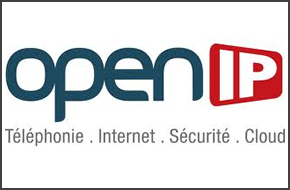 3CX and OpenIP present complete VoIP PBX solution to all 3CX Phone System Customers in France
PARIS FRANCE, 28 OCTOBER 2013 – 3CX, developer of the award-winning Windows VoIP PBX 3CX Phone System, today announces the continuation of its partnership with French VoIP Provider, OpenIP, which allows 3CX customers to leverage OpenIP as a SIP trunk provider to make quality, low-cost business calls in France.
3CX Phone System customers can select OpenIP's SIP trunking service from within the VoIP Providers' node of the 3CX Management Console and configure their inbound and outbound rules to make and receive calls using OpenIP easily.
3CX along with OpenIP and other technology partners in France, snom, Patton and D-Link, are organising the 3CX Showcase, which is free and specifically designed for IT Resellers who want to increase their revenue by selling 3CX Phone System. The 3CX Showcase will take place this November in the five French cities of Sarrebourg, Lyon, Aix-en-Provence, Nantes and Paris. To find out more about the 3CX Showcase such as what will be covered and how to book your seat go here.
"3CX is expanding in France and given the recent announcement of the 3CX Showcase in which OpenIP are a part of, the inroads we're making are starting to pay dividends. Since OpenIP passed the interop testing in 2011, many 3CX users have leveraged OpenIP's SIP trunk service within 3CX Phone System as it delivers low-cost quality calls throughout France." said Kristel Aszody, Account Manager, 3CX.

"We are thrilled to complete the Unified Communications solution offered by 3CX to the French VoIP market," said Laurent Silvestri, President of OpenIP. "3CX Phone System for Windows is particularly adapted to our resellers and their customers' needs, especially considering its easy deployment and the richness of its mobility features."
About 3CX (www.3cx.com)
3CX is the developer of 3CX Phone System and 3CX Mobile Device Manager. 3CX Phone System is an open standard unified communications platform for Windows that works with standard SIP phones and replaces any proprietary PBX. 3CX Phone System is more manageable than standard PBX systems and delivers substantial cost savings while increasing productivity. Some of the world's leading companies and organizations use the 3CX Phone System, including Boeing, the Caterham F1 Team, Intercontinental Hotels & Resorts, Harley Davidson, and MIT.
3CX was named a CRN Emerging Vendor in 2011 and 2012 and has been awarded CRN's 5-Star Partner Program rating in 2013. 3CX has also been awarded Windows Server Certification and won the Windowsnetworking.com Gold Award, the Windows IT Pro 2008 Editor's Best Award and a Best Buy Award from Computer Shopper.
3CX Mobile Device Manager is an inexpensive hosted and on-premise mobile device management solution that allows businesses to easily manage, secure, monitor, find and track their iOS and Android smartphones and tablets from an easy to use dashboard. 3CX has offices in Australia, Cyprus, Germany, Hong Kong, Malta, South Africa, the UK and the U.S. Visit us at: https://www.3cx.com, and on Facebook at: www.facebook.com/3CX/ & www.facebook.com/3CXMobileDeviceManager.
About OpenIP (www.openip.fr)
Created in June 2005, OpenIP is an Internet and Telecom Operator, specialized in Unified Communications and Collaboration work solutions for businesses. OpenIP distributes its solution throughout a national certified resellers network and offers a complete range of solutions including IP telephony (IP-PBX, Cloud Telephony, IP Centrex, SIP Trunking, IP Fax), broadband Internet access (xDSL, EFM and optical fibre) as well as some collaboration work solutions in hosted mode (SaaS). For more information: www.openip.fr