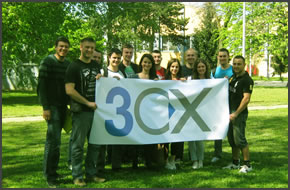 3CX agrees to sponsor VoIP IT training at the University of Zagreb, giving the students superior exposure to the latest advances in telecommunications.
LONDON UK and ZAGREB CROATIA – 12 JUNE 2013 – 3CX, developer of the award-winning Windows VoIP PBX 3CX Phone System, and its 3CX Partner in Croatia, Callidus, today announced they have provided the University of Zagreb students within the Faculty of Transport and Traffic Sciences access to 3CX Phone System. The installation, valued at approximately €20,000, will help the students gain hands-on experience with the industry's best of breed VoIP PBX, 3CX Phone System for Windows.
Goran Ranogajec, CEO for Callidus, who has been working closely with the University of Zagreb to bring 3CX Phone System to the students said "We are excited to be given a chance to contribute where it is the most relevant, and that is at forming young minds, the future carriers of our industry. As modern communication technologies becomes ever more complex, they become distant and abstract to the students. That is a loss of potential because young people must discover their talents and affinities as early as possible in order to develop them. That is why we are proud to help the Faculty of Transport and Traffic Sciences to give its students first hand experiences with Unified Communications and VoIP technologies. We hope these experiences will strengthen our business community of tomorrow!"
"This sponsorship agreement provides an excellent opportunity as it allows 3CX to bring the latest technologies and experience directly to the students. We expect this project will be an incredible success and look forward to empowering the students with the latest telecommunications trends," said Stephen Corrigan, Sales Director for 3CX. "3CX prides itself on being ahead of the game and a world leader in VoIP PBX technology. We certainly look forward to working closely with the University of Zagreb and building synergies with the Croatian business community."
"We hope that this collaboration will build up the synergy of the Faculty of Transport and Traffic Sciences, University of Zagreb and the business community. Therefore it will be beneficial for students in terms of later competencies and for us in the transfer of knowledge and attracting new talented students who will continue to be the basis of our excellence, too. We are very pleased that we've found a new partner in 3CX and looking forward to collaborate in future."- Head of the Department of Information and Communication Traffic, Dragan Peraković, Ph.D.
"At our Faculty, especially at the Department of Information and Communication Traffic, we intend to offer our students ultimate scientific and research environment in the function of better basis for future successes throughout their career. We give high importance to modern communications and in collaboration with 3CX every student has the ability of individual experimentation and testing with the UC system and thus the chance of developing VoIP applications, which will, undoubtedly, further improve our courses and programs." – Head of the Laboratory of Modeling and Optimizing Information Communication Networks and Services, Ivan Forenbacher, B.S.
About 3CX (www.3cx.com)
3CX is the developer of the 3CX Phone System, an open standard unified communications platform for Windows that works with standard SIP phones and replaces any proprietary PBX. The 3CX Phone System is more manageable than standard PBX systems and delivers substantial cost savings while increasing productivity. Some of the world's leading companies and organizations use the 3CX Phone System, including Boeing, the Caterham F1 Team, Intercontinental Hotels & Resorts, Harley Davidson, and MIT.
3CX was named a CRN Emerging Vendor in 2011 and 2012 and has been awarded CRN's 5-Star Partner Program rating in 2013. 3CX has also been awarded Windows Server Certification and won the Windowsnetworking.com Gold Award, the Windows IT Pro 2008 Editor's Best Award and a Best Buy Award from Computer Shopper. 3CX has offices in Australia, Cyprus, Germany, Hong Kong, Malta, South Africa, the UK and the U.S. Visit us at: https://www.3cx.com, and on Facebook at:http://www.facebook.com/3CX/.
About Callidus GRUPA d.o.o (http://www.callidus.hr)
Callidus Group is the Croatian specialist for next generation Unified Communications VoIP solutions. The company builds diverse IP telephony, contact center and UC solutions on various platforms among which 3CX is the central pillar. As a provider of network, security and system solutions, Callidus prides itself on integration commitments where it always seeks for technology bridges which will make real life benefits to the client business processes. The company team efficiently serves Croatia and the close region. For more information please visit the company website at: www.callidus.hr
About Faculty of Transport and Traffic Sciences (http://www.fpz.unizg.hr/)
Faculty of Transport and Traffic Sciences, University of Zagreb, Croatia, is a higher education institution from the field of technical sciences, area of traffic technology and transport. Teaching activity is held at the undergraduate, graduate and postgraduate level. In order to perform Faculty's activities, the three divisions are constituted: Traffic, Intelligent Transport Systems and Logistics and Aeronautics, at which the corresponding courses with subjects are conducted. One of these is Information and Communication Traffic Course.
The Department of Information and Communication Traffic is scientific-educational and research-developmental organizational unit of the Faculty of Transport and Traffic sciences, University of Zagreb, which produces, transmits and applies knowledge in the field of information and communication traffic and related technologies. Teaching activity is organized at the undergraduate and graduate level with corresponding subjects such as Telecommunication Network Architecture, Switching Processes and System, Terminal Devices, Information Systems of Network Operators, Simulations in Traffic, Telecommunication Traffic Technology etc.
About University of Zagreb (http://www.unizg.hr/homepage)
The University of Zagreb (1669) is the oldest and biggest university in South-Eastern Europe. Ever since its foundation, the University has been continually growing and developing and now consists 29 faculties, three art academies and the Centre for Croatian Studies. With its comprehensive programmes and over 50,000 full-time undergraduate and postgraduate students the University is the strongest teaching institution in Croatia. It offers a wide range of academic degree courses leading to Bachelor's, Master's and Doctoral degrees in the following fields: Arts, Biomedicine, Biotechnology, Engineering, Humanities, Natural and Social Sciences. it is also a strongly research-oriented institution, contributing with over 50 percent to the total research output of the country.