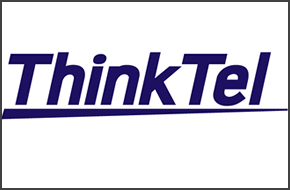 LONDON UK and TORONTO, CANADA, 29 AUGUST 2013 – 3CX, developer of the award-winning Windows VoIP PBX 3CX Phone System and mobile device management solution, 3CX Mobile Device Manager, today announces that the interoperability testing with the Canadian-based VoIP Service Provider, ThinkTel, has proven successful, which allows 3CX customers to leverage ThinkTel as a VoIP Provider to make low-cost calls in Canada.
3CX Phone System customers can now select ThinkTel's SIP trunking service from within the VoIP Providers' node of the 3CX Management Console and configure their inbound and outbound rules to make and receive calls using ThinkTel easily. As part of the successful interop with 3CX, ThinkTel are offering 3CX customers free service for the first month.
"We are very excited about successfully completing the interoperability test with 3CX Phone System, one of the leading IP PBX brands. Our users can now take full advantage of this Windows-based PBX and the many Unified Communications features it has to offer" said Jim Dawson, VP Sales, ThinkTel Communications.

"3CX can broaden its range in Canada now that the interoperability between ThinkTel and us has been accomplished. ThinkTel has over 30 years of experience in the wireless industry and we feel confident that they will be able to provide our customers with the service they need", said Ben Conway, Channel Manager, 3CX.
About 3CX (www.3CX.com)
3CX is the developer of 3CX Phone System and 3CX Mobile Device Manager. 3CX Phone System is an open standard unified communications platform for Windows that works with standard SIP phones and replaces any proprietary PBX. 3CX Phone System is more manageable than standard PBX systems and delivers substantial cost savings while increasing productivity. Some of the world's leading companies and organizations use the 3CX Phone System, including Boeing, the Caterham F1 Team, Intercontinental Hotels & Resorts, Harley Davidson, and MIT.
3CX was named a CRN Emerging Vendor in 2011 and 2012 and has been awarded CRN's 5-Star Partner Program rating in 2013. 3CX has also been awarded Windows Server Certification and won the Windowsnetworking.com Gold Award, the Windows IT Pro 2008 Editor's Best Award and a Best Buy Award from Computer Shopper.
3CX Mobile Device Manager is an inexpensive hosted and on-premise mobile device management solution that allows businesses to easily manage, secure, monitor, find and track their iOS and Android smartphones and tablets from an easy to use dashboard. 3CX has offices in Australia, Cyprus, Germany, Hong Kong, Malta, South Africa, the UK and the U.S. Visit us at: https://www.3cx.com, and on Facebook at: www.facebook.com/3CX/ &www.facebook.com/3CXMobileDeviceManager.
About ThinkTel (http://www.thinktel.ca)
ThinkTel is a 100% Canadian-owned business telecommunications provider catering to the SMB, enterprise and wholesale segments. With a CLEC footprint covering over 1000 centres across the country, ThinkTel operates an advanced national network, designed to meet the demanding standards of Canada's largest organizations.
As one of the longest operating and most experienced providers of SIP-based telecommunications services in Canada, ThinkTel's expertise lies in delivering highly reliable and adaptable voice, video, and data services, including enterprise-grade SIP trunking, wholesale VoIP, and Hosted or Managed Microsoft Lync services. Through a network-neutral approach, ThinkTel proposes flexible solutions that meet customer requirements and enable them to reach their cost-cutting goals, while leveraging their existing infrastructure whenever possible.