3CX Phone System v12.5 RC, brings many new and exciting features that will take your company's internal communications to a new level. One of these, is the significantly improved Chat feature of 3CXPhone for Windows and Mac. It now allows you to communicate with your colleagues more effectively and efficiently, by elevating chats to WebRTC calls or 3CX WebMeetings within seconds.
What's new in Chat!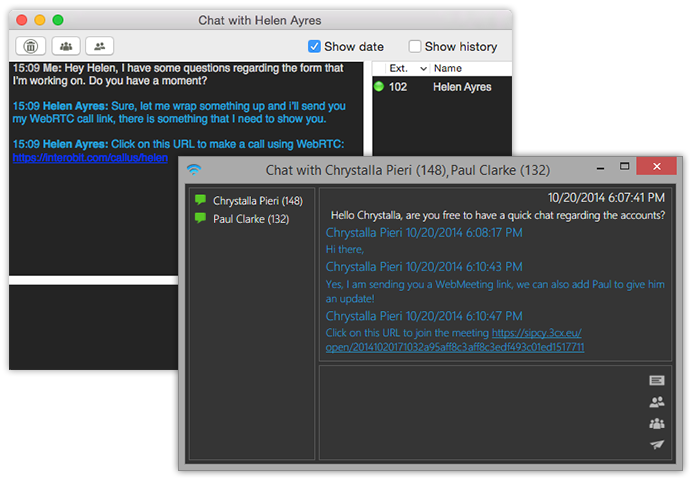 Elevate a Chat to a WebRTC Video Call
3CX takes full advantage of WebRTC technology and now allows you to easily elevate a chat to a WebRTC Video Call within seconds. All you need to do, is click on the "Send WebRTC Call link"  

 icon, and your personal WebRTC Call link will be sent to your colleague. What makes it even more exciting is that you can even share your screen with your colleagues on the spot, collaborating more effectively!
One Click 3CX WebMeetings
In addition to the WebRTC Call link, you can benefit from 1 click WebMeetings, where a WebMeeting session can be instantly created, automatically connecting you as the organizer and inviting chat participants to collaborate. To do so, click on the "Create WebMeeting" 

 icon. With 3CX Webmeeting you can take advantage of powerful features like co-browsing and screen-sharing to enrich your communication.
Review your Chat History
What's more, you can review past chats saved in your chat history by clicking the "Chat History"  

 icon in Windows or checking the "Show history" checkbox in Mac, as by default, only your daily chat history is shown.
To take advantage of these new amazing features update to the latest version of 3CX Phone System for Windows!