Version 12.5 RC1 is no longer available for download. To download the updated version click here.
With the final launch just around the corner, it is time to try out all the new features of the 3CX Phone System 12.5 Release Candidate. In the Release Candidate we've given the Mac client a complete makeover, bringing the interface in line with that of 3CXPhone for Windows. We've also added yet more new VoIP providers, including AT&T, after receiving feedback from our customers asking for more VoIP Providers.
3CXPhone for Mac Gets a Fresh New Look!
In the 12.5 RC, 3CXPhone for Mac has attained a modern look to match its modern features. 3CX is the only IP PBX to offer a fully fledged Mac client and the updated 3CXPhone for Mac does not disappoint. We've added a new echo cancellation module for clearer calls and the ability to schedule 3CX WebMeetings in the Mac client.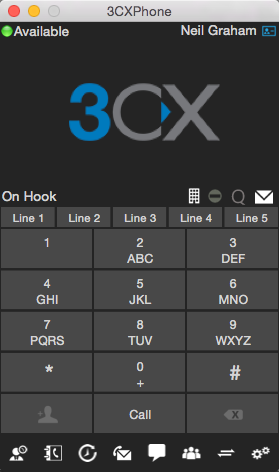 What's more, you can elevate your chat to a WebRTC call or 3CX WebMeeting with a single click!
More VoIP providers added including AT&T
More VoIP providers means more choice for our users! We heard your call and went to great lengths to secure a large number of new VoIP providers to choose from. This will give you and your customers the flexibility to quickly and easily add the VoIP provider of your choice to 3CX Phone System. More to be announced soon!
Other Features in v12.5 RC
Ability to reset and reprovision 3CXPhone Clients from the Phones page in the 3CX Management Console.
Improved reconnection in SBC Module.
For the complete list of changes view the complete change logs for 3CX Phone System, 3CXPhone for Windows, 3CXPhone for Mac.
Download v12.5 & Documentation
Download 3CX Phone System Version v12.5.
3CXPhone for Windows client is included in the 3CX Phone System v12.5 and will be updated automatically, or download the client.
3CXPhone for Mac OS is also included in the 3CX Phone System v12.5 and will be updated automatically, or download the client.
Download 3CXPhone for Android from Google Play.
Download 3CXPhone for iPhone from the Apple App Store
Demo Key: SAOY-3LMW-U3OT-GLJV