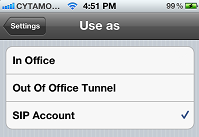 We are currently planning changes to 3CXPhone for iPhone, in particular in its usage as a remote extension. 3CX Phone System 11 includes various updates which make it easier to operate remote extensions. We feel that these changes have reduced the requirement for the Tunnel protocol for remote extensions with 3CXPhone for iPhone.
We would like to hear your experiences using 3CXPhone for iPhone as a remote extension – ideally if you're running 3CX Phone System 11 with service pack 1. Connect 3CXPhone for iPhone as a Remote Extension (SIP Account) without using the 3CX Tunnel App. Use the following Poll to leave us your feedback.
Please note that we specifically need feedback on the use of 3CXPhone for iPhone and not on the Tunnel itself.
At the bottom of this article you will find instructions on how to configure 3CXPhone for iPhone without using the 3CX Tunnel.
How to Configure 3CX Phone for iPhone Without Using the 3CX Tunnel App
If you are using 3CXPhone for iPhone with 3CX Phone System you can provision the phone when you're on the same LAN as the PBX. Click here for more information.
Click here if you are using 3CX Phone for iPhone and you need to configure the settings for your extensions and the PBX manually.
Thank you for your feedback!