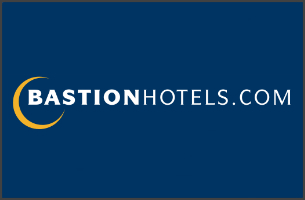 LONDON, UK, 10 APRIL 2017 – 3CX, developer of the next-generation software-based Unified Communications system, today announces that Dutch hotel chain, Bastion Hotels, has carried out a successful deployment of its VoIP PBX solution across its 31 locations. The company, founded in 1986, operates the majority of its hotels in The Netherlands and one in Germany and is committed to providing its guests with an inviting, five-star experience. To meet these expectations, and to improve their overall communications system and management, Bastion Hotels chose to install 3CX's Hotel PBX.
Bastion's head office was in need of an upgrade to their analog phone system; their outdated PBX was costing the company roughly €100,000 annually. By deploying 3CX,  not only was the hotel chain able to reduce costs immensely, they also increased productivity and mobility of employees and collaboration between hotels.
Working with Sbit Hospitality Services, Bastion was able to deploy 3CX in a matter of hours without disrupting operations; ensuring that the hotel continued to run smoothly and guests' experiences were not impacted in any way.
Bastion Hotels' Marianne van de Sterren noted the ease of installation and management.
"Installation of the 3CX software went flawless. And changes can be done remotely, which further reduces IT labor costs."
Head over to the case study to find out more about Bastion Hotels and their 3CX installation. 
About 3CX (www.3cx.com)
3CX is a 100% channel company and is the developer of a software-based and open standards IP PBX which innovates communications and replaces proprietary PBXs. 3CX cuts telco costs and boosts company productivity and mobility.
With integrated WebRTC web conferencing, softphones for Mac and Windows and smartphone clients for Android, iOS and Windows phones, 3CX offers companies a complete Unified Communications package out of the box.
250,000 customers worldwide use 3CX including Boeing, McDonalds, Hugo Boss, Ramada Plaza Antwerp, Harley Davidson, Wilson Sporting Goods and Pepsi. Maintaining its global presence, 3CX has offices in the U.S., U.K., Germany, South Africa, Russia and Australia. Visit 3CX on Facebook, Twitter and on Google+.
About SBIT Hospitality Services (www.s-bit.nl)
SBit has been your partner ever since 1999, concerning all computerization within your hotel or company. Due to many years of ICT experience, our profound educated system managers and service desk employees, we dare to guarantee computerization without any concerns on your behalf.
SBit provides you system management, simple and complex ICT solutions, virtualization, guest internet, WiFi Solutions, Social Media Login, print solutions for guests (Printer-On) and guest services.