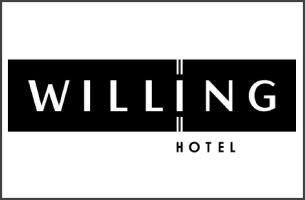 LONDON, UK, 20TH NOVEMBER 2018 – 3CX, developer of the next-generation software-based Unified Communications system for Windows, Linux and the Cloud, is pleased to announced the successful deployment of its IP PBX solution at the Willing Hotel in Minsk, Belarus. The Willing Hotel is a new addition to the city's accommodation offering, opening in the Winter of 2017 and employing a staff of 50. With its conference halls, dining facilities and fitness suite, the hotel is a favourite for both personal and corporate events.
In targeting a younger, more modern customer base, the Willing Hotel was looking for a communications solution that would keep inline with their fresh, innovative vibe. Additionally, faced with the high costs of more traditional phone systems, CEO Oksana Vladimirovna Miakish was in search of a solution that would be able to keep initial investment costs to a minimum, as well as provide savings on telco bills.
Oksana Vladimirovna Miakish, CEO: "We had been choosing the telephony type for quite a long time, compared many brands, met the representatives of different companies, but finally decided on 3CX, as this software meets all our requirements to the best advantage."
In working with 3CX partner, IT Globus, the hotel was able to quickly deploy 3CX and have the hotel ready for operation upon its opening. Oksana noted the significant levels of productivity and mobility that 3CX provided and was particularly pleased with the cost savings that were achieved.
To find out more about the Willing Hotel and 3CX, read the complete case study.
About 3CX (www.3cx.com)
3CX is a 100% channel company and is the developer of a software-based and open standards IP PBX which innovates communications and replaces proprietary PBXs. 3CX cuts telco costs and boosts company productivity and mobility.
With integrated WebRTC web conferencing, softphones for Mac and Windows and smartphone clients for Android, iOS and Windows phones, 3CX offers companies a complete Unified Communications package out of the box.
250,000 customers worldwide use 3CX including Boeing, McDonalds, Hugo Boss, Ramada Plaza Antwerp, Harley Davidson, Wilson Sporting Goods and Pepsi. Maintaining its global presence, 3CX has offices in the U.S., U.K., Germany, South Africa, Russia and Australia. Visit 3CX on Facebook, Twitter and on Google+.
About IT Globus (itglobus.by)
IT Globus has operated in the Republic of Belarus since 2008. With their many years of service in the IT industry, they offer a complete range of services including IP telephony, servers, equipment, security and more.