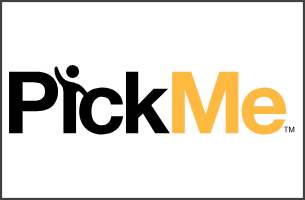 LONDON, UK, 9TH NOVEMBER 2018 – 3CX, developer of the next-generation software-based Unified Communications system, is pleased to announce the successful deployment of it's award-winning software PBX phone system solution for PickMe, a company by Digital Mobility solutions in Sri Lanka. PickMe was launched in June 2015 as an innovative travel solution and is the only taxi service of its kind in the country.
As PickMe's business is centered around the ability for customers to inquire and provide feedback about their journeys, it was essential that the company's communications system was up to par and able to cope with the daily demands placed upon it. They found that their previous PBX was difficult to customize and integrate, and posed issues with its non-user-friendly interface. Additionally, PickMe was spending a significant amount every year on the maintenance of the system. Senior I.T. adminstrator, A. N. Mohamed turned to 3CX for a more scalable, reliable and cost effective solution.
"3CX is a total communications solution with corporate and call center features and includes almost all of the system visibility at user level. The system is easy to handle with a user-friendly interface and environment, and the cost savings were remarkable, allowing us to save over 500,000LKR on development costs." – A. N. Mohamed, Senior I.T. Administrator, Digital Mobility Solutions
PickMe worked with 3CX Partner SimSyn who carried out the deployment in a matter of hours with no disruption to service. The new installation saw 3CX take over the management of the company's 30+ Yealink IP Phones and 45+ SIP lines. PickMe has now noted considerable savings on maintenace, and an increase in productivity and mobility.
Find out more about how PickMe is benefiting from 3CX's software UC solution in the complete case study.
About 3CX (www.3cx.com)
3CX is a 100% channel company and is the developer of a software-based and open standards IP PBX which innovates communications and replaces proprietary PBXs. 3CX cuts telco costs and boosts company productivity and mobility.
With integrated WebRTC web conferencing, softphones for Mac and Windows and smartphone clients for Android, iOS and Windows phones, 3CX offers companies a complete Unified Communications package out of the box.
250,000 customers worldwide use 3CX including Boeing, McDonalds, Hugo Boss, Ramada Plaza Antwerp, Harley Davidson, Wilson Sporting Goods and Pepsi. Maintaining its global presence, 3CX has offices in the U.S., U.K., Germany, South Africa, Russia and Australia. Visit 3CX on Facebook, Twitter and on Google+.
About SimSyn (www.simsyn.com)
SimSyn was established in 2008 and is now an industry leader for innovative communication solutions and services in Sri Lanka. SimSyn's focus is to provide a superior end-to-end service for its customers whether they are looking to upgrade their communications or improve their business processes.
SimSyn's services include call center solutions, IVR's, business conferencing, CRM solutions and many more.