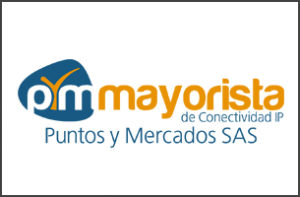 LONDON, UK & BOGOTA, COLOMBIA 7 FEBRUARY 2018— 3CX, developer of next-generation software-based Unified Communications solution and Colombia-based wholesaler PYM Mayorista, are pleased to announce a new partnership in which PYM Mayorista becomes an official distributor of 3CX for Colombia.
PYM is a nationally recognized wholesaler specialized in telecommunications, delivering positive outcomes for its customers by working as a strategic business partner. With its specialized and trained personnel, PYM has positioned itself as first choice channel partner to enhance productivity and performance with the distribution of innovative communication solutions.
This made the decision to partner with 3CX a natural fit. 3CX´s awarded UC solution is designed for cost-effective and efficient maintenance and management as well as seamless integration with 3rd party applications. By adding 3CX into its portfolio, PYM provides its customers access to a highly innovative and user-friendly communications solution. And while 3CX is designed for intuitive use, PYM will be providing additional support by offering webinars and training sessions to 3CX's partners in the coming fiscal year.
Gabriela Saborio Adamides, Sales Executive South & Central America, 3CX, said:

By forming this new partnership with PYM, 3CX is set to strengthen its position in Colombia and ensure further business expansion in this market. PYM provides the essential knowledge and experience in the field of UC solutions to help the 3CX Partner network increase their revenue by offering support as well as sales and technical training on a local level.

Gerardo Hernandez, Commercial Manager, PYM added:

The integration with 3CX will generate a host of new opportunities and business developments for the current partners and new ones that wish to increase their income through integral solutions in IP telephony and unified communications at highest quality standards. Through support and training with the brand, encouraging participation with web training sessions, promotions, advertising and marketing, we are poised to expand our portfolio of specialized channels allowing a greater level of market coverage and diffusion.
About 3CX (www.3cx.com)
3CX is a 100% channel company and is the developer of a software-based and open standards IP PBX which innovates communications and replaces proprietary PBXs. 3CX cuts telco costs and boosts company productivity and mobility.
With integrated WebRTC web conferencing, softphones for Mac and Windows and smartphone clients for Android, iOS and Windows phones, 3CX offers companies a complete Unified Communications package out of the box.
250,000 customers worldwide use 3CX including Boeing, McDonalds, Hugo Boss, Ramada Plaza Antwerp, Harley Davidson, Wilson Sporting Goods and Pepsi. Maintaining its global presence, 3CX has offices in the U.S., U.K., Germany, South Africa, Russia and Australia. Visit 3CX on Facebook, Twitter and on Google+.
About PYM Mayorista (www.pymmayorista.com)
PYM Mayorista was founded 30 years ago with the ambition to provide technological resources in the area of communications and connectivity with ergonomic features, high productivity and performance in the workplace.
Specialized in the UC segment with the brand Plantronics, PYM is a wholesaler that has been including connectivity products such as gateways, IP telephony, providing direct support, pre- and post-sales as well as training for leading brands such as Polycom, Yealink and Grandstream. The constantly developing portfolio of PYM encompasses new and innovative manufacturers and products targeting the integration and improvement of communications through IP telephony solutions such as 3CX and Khomp.