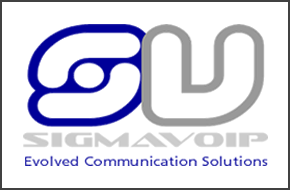 LONDON, UK and NEW YORK, USA 26 FEBRUARY 2014 – 3CX, developer of the award-winning Windows VoIP PBX 3CX Phone System, announces that the interoperability testing with the U.S.-based VoIP Service Provider, SigmaVoIP, has proven successful, allowing 3CX customers to use SigmaVoIP as a VoIP Provider to make low-cost calls.
3CX Phone System customers can now select SigmaVoIP SIP trunking service from within the VoIP Providers' node of the 3CX Management Console, which automatically configures their inbound and outbound rules to make and receive calls. By ensuring seamless customer support and regularly testing configuration templates, 3CX and SigmaVoIP is able to provide a cost-effective and reliable IP PBX.
The success of the interoperability testing of 3CX Phone System with SigmaVoIP guarantees full operation of all the functions and with the support provided by both 3CX and SigmaVoIP, customers can have peace of mind. The ease of setting up SigmaVoIP as the VoIP Provider of choice means that IT Administrators can complete the set up in minutes with just a few mouse clicks.
Charles Ambrosecchia, CEO, SigmaVoIP said:
"As a long term partner of 3CX, we appreciate the best in class features and the continued development that makes 3CX the most innovative and capable platform in the industry. Our SIP trunk platform has been tailored to serve and to maximize all of 3CX's features, support is provided exclusively by our most experienced 3CX Advanced Certified Engineers. I am honored by this partnership and I am looking forward to serve the 3CX community with a solution that maximizes operational savings while delivering unmatched performance, dependability and support"
Kyle Asbury, Channel Manager, 3CX said:
"3CX is excited to be expanding its reach within the US with SigmaVoIP. As an experienced VoIP provider, we know that SigmaVoIP will provide the high level of service that our customers are used to."
About 3CX (www.3CX.com)
3CX is the developer of 3CX Phone System which is an open standard unified communications platform for Windows that works with standard SIP phones and replaces any proprietary PBX. 3CX Phone System is more manageable than standard PBX systems and delivers substantial cost savings while increasing productivity. Some of the world's leading companies and organizations use the 3CX Phone System, including Boeing, the Caterham F1 Team, Intercontinental Hotels & Resorts, Harley Davidson, and MIT.
3CX was named a CRN Emerging Vendor in 2011 and 2012 and has been awarded CRN's 5-Star Partner Program rating in 2013. 3CX has also been awarded Windows Server Certification and won the Windowsnetworking.com Gold Award, the Windows IT Pro 2008 Editor's Best Award and a Best Buy Award from Computer Shopper.
3CX has offices in Australia, Cyprus, Germany, Hong Kong, Malta, South Africa, the UK and the U.S. Visit us at: https://www.3cx.com, and on Facebook at: www.facebook.com/3CX/.
About Sigma VoIP
Founded in 2009, SigmaVoIP is a leading provider of Evolved Communication Solutions and SIP Services for businesses in the US and parts of Europe. SigmaVoIP's passionate and dedicated professionals strive to consistently deliver leading edge solutions to the most technologically demanding customers in the most complex environments. SigmaVoIP deploys exclusively 3CX platform based solutions. For more information, visit our website at www.sigmavoip.com and on Facebook at www.facebook.com/thevoip
Media Contacts: SigmaVoIP, LLC. Joel Lesper, CMO, 203-541-5450, pr@sigmavoip.com