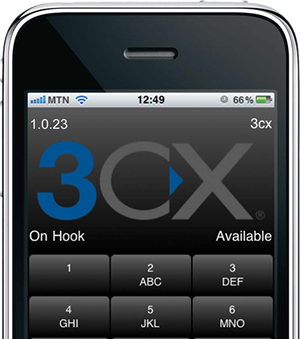 We are proud to announce the latest 3CXPhone for iPhone app release, version 1.0.23. The 1.0.23 version fixes several issues and improves the usability when connecting your iPhone device to the 3CX or other IP PBX.
It's our continued plan to produce newer versions of this great app, therefore enabling further mobility and making it easier for you to connect seamlessly with your PBX.
FIXES
Improved handling of profiles
App terminates correctly when "Exit" used
Unregister SIP connection on EXIT
Improved usage of STUN requests
App doesn't crash when no network is available or lost
"-" in Russian and US numbers will be remove automatically
"Server Port" is used in Invites
NEW
Multitask Option based on "Force Activ"
Automatically re-registers based on rPort/received (SIP Helper)
NAT Helper Toggle
Automatically un- and re-register in case of contact changes
Names for a profiles can be set
On transfers parter will be hold
Perform re-register in 120 sec. interval
A detailed change log for the 3CXPhone for iPhone app can be found here.