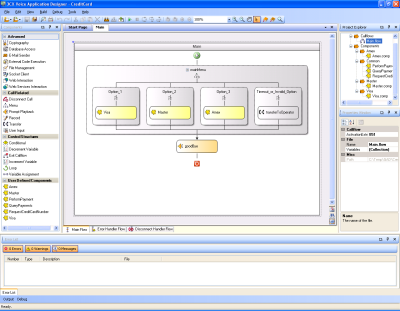 I am proud to announce the first beta of our new 3CX Voice Application Designer product. Proud because this is an industry first – 3CX Phone System is the first PBX to have such a powerful graphical voice application building tool.
With 3CX Voice Application Designer you can create voice applications that automate time intensive business processes with a few mouse clicks. For example, create a voice application that queries the caller for a customer number, then validates this number against a database and routes the call based on customer type.
Voice applications that would take weeks to build and test and would require expensive specialist knowledge can now be built in a matter of hours. And those 'hand built' applications would be difficult to update or maintain. 3CX VAD changes all this with its visual interface that lets you drag and drop the building blocks of your voice application as opposed to having to program or script! Ready voice applications are then deployed onto an existing 3CX Phone System installation.
3CX Voice Application Designer will be available as an add-on module, and ready applications can be deployed onto any commercial edition of 3CX. A free edition of the Voice Application Designer will also be available, which will have a reduced set of "building blocks".
3CX Voice Application Designer illustrates where a software based PBX can take us. We've said before that as the PBX evolves onto our network and on to Windows, it will be so much easier to make the PBX talk to our Windows business apps and automate business processes. And 3CX Voice Application Designer perfectly proves this point!
Download:
Manual: https://www.3cx.com/manual/3CXVADManual3.pdf
NO LONGER AVAILABLE
Product home page: https://www.3cx.com/phone-system/call-flow-designer/
Support forum: https://www.3cx.com/community/forums/call-flow-designer-app-integration.27/
The server component must be installed on an existing 3CX Phone System V10 SP6 installation and allows deployment and debugging of a voice application. Please note that this product is currently only supported via the dedicated VAD forum
Looking forward to your feedback!