UPDATE: 25 April 13:15 (UTC +2) All 3CX partners and existing Version 12 3CX Users can now signup for a free 3CX Webmeeting account
Thank you to all our Partners who gave their feedback on 3CX WebMeeting Alpha. We have listened to your suggestions and have today released 3CX WebMeeting Alpha 2 with the fixes listed below, making our video conferencing feature more accessible and user friendly.
Try the latest version of 3CX WebMeeting, by downloading the feature as an extension to your current 3CX Phone System Version 12.  Simply check the 3CX Updates section and download the 3CX WebMeeting update- please note: 3CX Partners must use the NFR available from the partner portal which will enables up to 10 participants. 
3CX's video conferencing solution will combine instant screen sharing and classroom features to enable 3CX users to give presentations and training to colleagues and customers.  With 3CX WebMeeting, users will be able to enrich their standard phone calls with video, and even take control of a participant's desktop to fix or show something on their computer. Web conferences can be launched from the web portal or 3CXPhone client with a few mouse-clicks, and by leveraging WebRTC participants will be able to join meetings without the need to download additional software.  3CX's easy to use web conferencing solution will enable businesses to save time and money by hosting virtual meetings, whilst enjoying the benefits of face-to-face communication.
Installing 3CX Phone System 12 WebMeeting
Access the 3CX Management Console, click on 3CX Service Packs/Updates and download 3CX WebMeeting Alpha 2 Update
Click on Settings > WebMeeting
Select 'Register your Free 3CX WebMeeting 3 Simultaneous Participant Solution' and press Activate

After activation, click on Account Management tab and create a WebMeeting account, URL, portal admin and password
Click on Create Account to create your personalized 3CX WebMeeting account
After the account is created, click on Users and Access tab and select which users from your 3CX Phone System you would like to be able to create and organize web meetings. When done click save to create user accounts for these extensions. More information can be found here: Configuring Web Call Conferencing
Finally you can tell the users that have an account to log in using 3CXPhone for Windows. Once users click on the conference button, they will be presented with 2 added options: Create WebMeeting and Scheduled WebMeetings. To learn how to use 3CX Webmeeting, see these articles on Hosting a web conference and Using the 3CX WebMeeting Client
Users that receive a Webmeeting email invitation can click on the link to join the meeting. More information on this can be found here: Joining a Web Conference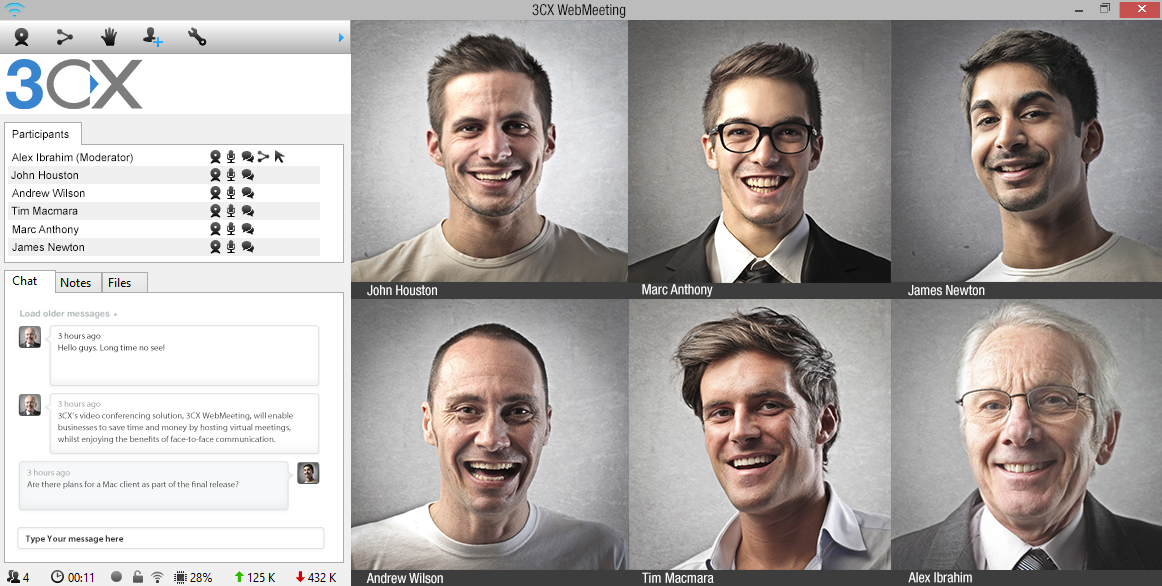 Notes
3CX WebMeeting Alpha is only available via Service pack updates and only for 3CX Phone System Version 12 installations
3CXPhone for Windows client is included in 3CX Phone System 12 update and will be updated automatically
3CX Partners must use their 3CX WebMeeting NFR available from the 3CX Partner Portal, General tab, NFR licence keys section
.
.
Fixes
Extensions can contain any first name or last name. If empty, the email address will be used
Adding of documents is now fixed
Fixed error message generated in 3CXPhone for Windows client 404 User not found
Access to Account URL link is denied. An appropriate html page is now displayed giving users more information on what to do next
Implement performance update on Cloud infrastructure
Validation checks for Password to avoid message that the username or password is incorrect
Account Administrator password issue fixed
If an account is already created for a particular email address, this account will be reserved for that account and cannot be moved to another account
When users were joined via 'open link' from the 3CX WebMeeting client, email notifications were being sent to bogus email addresses
Visual changes were made to the 3CX Management console > WebMeeting section to make it more user friendly
Added validation checks for proper configuration of Account Administrator Passwords
DEMO Keys are blocked and cannot be used to avoid confusion
In case Account password is incorrect, management console allows the ability to save the correct password