Get your hands on the latest 3CX WebMeeting update, hot from the virtual oven! The new version brings new 'Dial-in' functionality as well as a number of cool new features and updates. Read on for an overview of new features and updates.
New Dial-in Functionality
3CX WebMeeting 'Dial-In' is here! This powerful feature, seamlessly integrated with your PBX, enables you to setup 'Dial-In' numbers from your PBX conferencing settings. People on the move or simply not in front a computer, can now join a WebMeeting via a traditional call anywhere, any time.
Bundled with 3CX PBX v16 (spoiler alert!) and later versions, you'll find a special WebRTC bridge providing seamless communication between WebMeeting and your 3CX PBX, so you can easily dial into a web meeting.
How does it work? If someone dials into a conference, but no one on the WebMeeting side is connected yet, everything remains local to your PBX. When people connect on both sides though, a PBX-WebMeeting connection is created automatically, managed via the 'Dial-In' by the meeting creator via the 3CX Web Client conferencing function.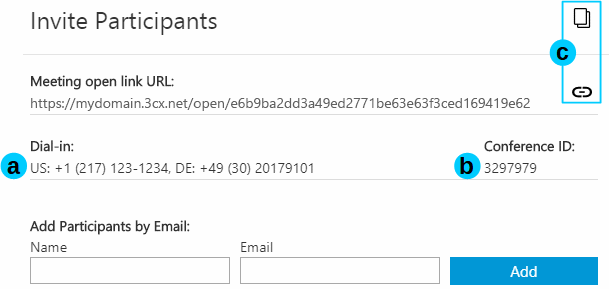 The updated WebMeeting "Invite Participants" page includes (a) 'Dial-In' numbers (DIDs), (b) the conference ID/PIN, as well as (c) quick copy buttons for the meeting info and link, as shown above.
UI Improvements
At 3CX we like facelifts, sο we decided to give WebMeeting another one to make the UI more efficient. You now have a slightly larger participant and chat panel, as well as some nicer UI effects and aesthetics to go with it. You'll also notice that each participant has their own audio volume indicator, a small but sometimes useful thing to have during meetings.
Adaptive Video Quality with WebRTC
If you have experienced network or bandwidth issues once or twice, possibly it resulted to a disconnection from your WebMeeting conference. We've attempted to address this by adding the new "Video Adaptiveness" control to automatically lower the video quality, instead of disconnecting the participant due to connection or bandwidth issues. This comes on top of 3CX WebMeeting's robust ability to handle up to 20% packet loss for users with suffering connections. Now that should make a big difference in your meeting experience!
The three built-in presets, Stability, Balanced (default) and Quality, allow meeting quality to drop down respectively to 25%, 60% and 80%, useful for meetings where a good connection cannot be guaranteed for all participants. The meeting organizer can decide how much video quality can be sacrificed in favor of connection stability for the participants.
Basic and Advanced Statistics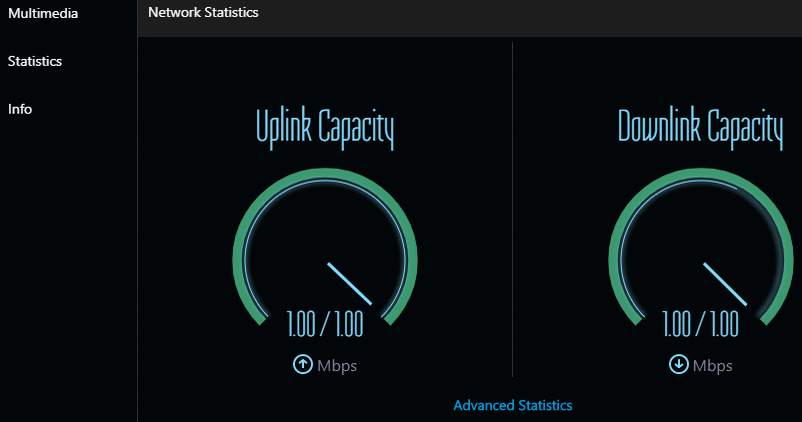 For users interested in 3CX WebMeeting's bandwidth usage, we've added a basic network statistics panel, accessed via the "Statistics" panel in WebMeeting "Settings".
Advanced statistics are also available for those of you who are WebRTC experts and want to take a deeper look in 3CX WebMeeting's internals and functionality, including video resolution, bitrate, download, uplink info and meeting server connection.
Known Issues and Limitations
Dialed-in participants have no advanced meeting rights (role, chat, etc).
The meeting audio quality drops while a user is dialed in, as the codec is switched from HD Opus to G722.
For the moment, Quick-Meetings do not include the 'Dial-In' ability for security reasons.
Visit the 3CX WebMeeting changelog for more information on what's new and give us your feedback via the community forum.