It's kept us busy for the last 8 months and the finish line is in sight. 3CX Phone System v15 is a major release with many new features, revamped management and under hood improvements.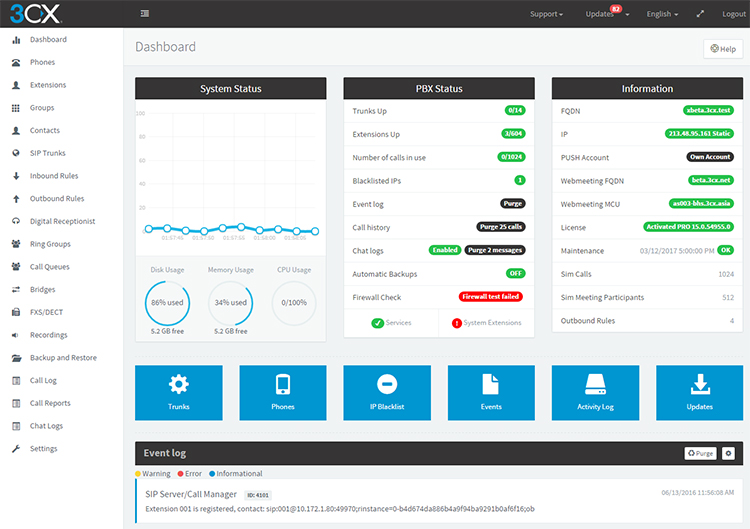 Here's a sample of the new features included in v15:
Brand new modern management console
New Dashboard for easy monitoring
NGINX web server instead of IIS/Abyss
Option to have 3CX manage your FQDN
Free Let's Encrypt certificates automatically created and managed
SSL Labs A+ rating
Automatic SIP hacker tool detection and blacklisting
Encrypted voice traffic via tunnel and SBC
Improved DID handling and configuration
Improved integrated Video Conferencing
Remote provisioning of supported IP phones via 3CX RPS servers
Centralized Chat Log Function
Call log searchable from Web interface
Brandable web meeting interface
Powerful scripting module – easily build CRM integrations, call scripts
New web meeting URLs for the new 3CX WebMeeting platform
New 3CX WebMeeting Android App available from Google Play store
Still pending and not included in this ALPHA:
New client interface
New improved scheduled video conference interface
Easy configuration of FXS Gateways
Easy configuration of DECT base stations & handsets
Extension level rights
Bulk extension editing
Ability to run VAD scripts
New SBC build to follow shortly
iOS 3CX WebMeeting app
Call logs can not be converted from v12.5, you must install v14 first.
3CX Mac and Windows clients will be automatically updated to work with v15. V14 Android and iOS clients work with v15. View the complete change log.
Download links and Documentation:
Download 3CX v15 from this form – be sure to enter your details correctly, you will be sent a licence key that is required for setup.
IMPORTANT: Partners & Customers that already have commercial/nfr licence keys must use their existing key during installation. You can evaluate with a another key, but be sure to leave your subdomain of choice free so it will be linked to the key that you will be using. Do not link your subdomain of choice to a free key (unless you intend to use that).
Admin Manual:
We look forward to hearing your feedback! Please post them on our forum or as a comment below.