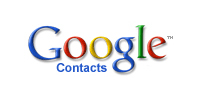 3CX is pleased to announce the new Google Contacts plugin for the 3CX CRM Integration module. With this plugin, users can integrate 3CX Phone System with Google Contacts so that when they  receive an inbound call the contact details are automatically retrieved from Google Contacts.
This new plugin retrieves contact information from Google Contacts, shows the contact details in a screen pop-up, opens the contact record in Google Contacts, creates a new contact if the inbound caller is not found, and saves the call information in the contact's notes.
Download 3CX CRM Integration Module
CRM integration with Google Contacts comes as standard with the 3CX Phone System 12 Pro edition. Upgrade or purchase the Pro edition today! Check out the full and upgrade pricing here.
Download the 3CX CRM Integration Module here. Installation information can be found here.
Users of other CRM applications can integrate 3CX Phone System Pro with their CRM via the 3CX API.