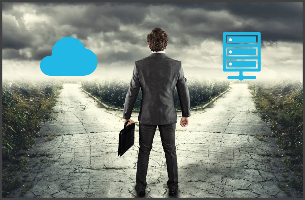 In the previous chapters we analyzed in detail and compared the specifics of on-premise PBX solutions and cloud-based systems.
Choosing the best solution depends on many factors. The transition to cloud systems is more advanced in countries and areas in which ultra-wideband connectivity is more widespread. This is, probably, the first factor to consider. If you live in an area covered by ultra-wideband then a cloud option is definitely one to be considered. On the contrary, if you are located in an area with limited data coverage it is advisable, and in some cases necessary, to adopt an on-premise system.
Company size is also an element to consider. Small and medium sized installations are definitely the most suitable to be hosted in cloud. Large installations that rely on a very high number of phone extensions and still use many local PSTN lines, should consider the migration to the cloud very carefully. In case it may be useful to consider a hybrid on-premise/cloud solution.
Modern software systems such as 3CX allow you to liaise channels creating a secure, protected and encrypted bridge, between an on-premise PBX and a cloud one, so as to benefit from the combined advantages of both solutions.
If the bandwidth requirements previously mentioned are fulfilled, an important factor of choice may be the availability of an IT administrator with the skills necessary for the management of the PBX. Cloud systems are generally provided and billed through a monthly fee that includes the management and administration of the PBX itself. The total cost can be significantly lower than the one of an on-premise infrastructure in case of small and medium enterprises that do not have internal IT skills.
Why is 3CX the best choice?
Not all cloud PBXs are the same: this is a fact that often gets overlooked. In choosing a cloud PBX the key considerations are security, ability to expand the system, freedom to use your chosen devices and SIP trunks and, last but not least, the ability to migrate the system.
Strengths of 3CX in the Cloud
Security: 3CX is a PBX software that pays special attention to safety factors related to privacy and prevention of IT fraud. All information passing through the cloud is protected by the most advanced encryption systems.
Flexibility: all licences are upgradeable. This means that the PBX can gradually grow with your business.
Independence: The 3CX licence is an investment with added value: portability. All 3CX licences can be used interchangeably on-premise and in the cloud. The company can then decide to adopt a solution on-premise and then migrate to a cloud one and vice versa. Also if there is a need to change the hosting provider, the operator, licence and the complete system configuration can be easily transferred to another service provider.
No constraints of proprietary hardware: 3CX works with the most common and popular phones and IP devices on the market. There is therefore no obligation to use proprietary hardware imposed by the cloud PBX provider.